DoubleTree by Hilton Hotel Dunblane Hydro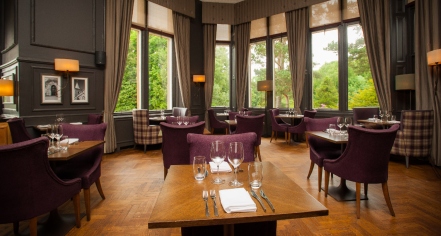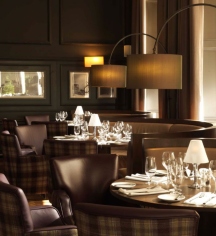 Dining
The Kailyard
Indulge in hearty and delicious dishes at The Kailyard. The Kailyard is home to renowned Executive Chef Nick Narin, who has won a Michelin Star for his cuisine. Each of Chef Narin's signature dishes are served with unparalleled attention to detail, and a firm emphasis on fresh, locally sourced Scottish ingredients. Dine in an intimate and contemporary setting with picturesque views. Guests staying on a dinner-inclusive package will enjoy a two-course meal every night. The menus are rotated daily to ensure that guests will have a wonderful selection to choose from.
The Stuart Lounge and Cocktail Bar
Relax on a sofa while sipping a Mojito or a French Martini in the stylish Stuart Lounge and Cocktail Bar. Enjoy the delicious Bar Menu, which includes some of Executive Chef Nick Nairn's speciality dishes. Afterward, finish off the day with a drink as you stroll through the hotel's stunning outdoor landscape.
The DoubleTree Buffet Breakfast
There's nothing quite like the DoubleTree Buffet Breakfast. It's limitless: hot or cold, hearty or healthy. With so many breakfast combinations to choose from, it's hard to know where to begin. Enjoy a traditional Scottish breakfast, including indulgently creamy scrambled eggs, or choose from fruit, cereals, yogurts, and pastries.