DoubleTree by Hilton Hotel Dunblane Hydro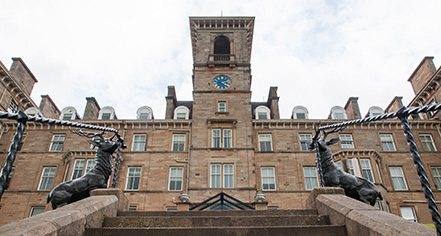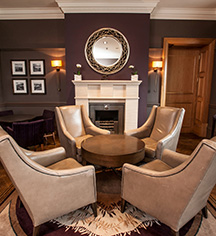 History
DoubleTree by Hilton Hotel Dunblane Hydro originally functioned as the Dunblane Hydropathic Establishment in 1878. Designed by renowned Scottish architects Peddie and Kinnear, the building cost £60,000 to construct. Originally a Victorian health spa resort, the Hydro welcomed guests who came to drink the local spring water, as well as enjoy different hydropathic treatments administered by Dr. Clark. 'Taking the waters' became a fashionable trend, which was then believed to cure a variety of illnesses including rheumatism, alcoholism, and depression.
The popularity for Dunblane Hydro continued to grow at the beginning of the 20th century, but for different reasons. Guests soon came to experience the beautiful countryside, fresh air and outdoor activities, making the Dunblane Hydro a popular vacationing spot in Scotland. The hotel also began to attract some of Scotland's finest entertainers and musicians, with extravagant balls becoming a routine sight at the Dunblane Hydro. A newspaper issued in December 1875 reported, "the house is once again well patronized, all sleeping accommodation being well filled."
The Dunblane Hydro also served different roles on the British home front throughout the World Wars. During the First World War, the British military requisitioned the Dunblane Hydro for use as a military hospital, with many of its rooms becoming wards for the infirm. And nearly 20 years later amid the Second World War, the hotel housed an evacuated girls' boarding school, as well as a convalescence home for wounded soldiers. The Dunblane Hydro held a grand reopening in 1946, but the proprietors struggled to make the hotel profitable for the next several years.
In 1962, Sir Reo Stakis struck a deal to buy Dunblane Hydro while on a lay-by of the Glasgow-Ayr road. Within six weeks of purchasing the hotel, he had turned a loss into profit. Stakis invested over £70,000 on refurbishments, and began a relationship with singer Jim MacLeod that would be pivotal in the success of the Hydro over the next 40 years. Jim MacLeod and his Scottish Dance Band regularly entertained several hundred guests every week, before being appointed by Sir Stakis as Musical Director. Jim subsequently booked many well-known personalities to perform at the hotel, and for a while, 'Hogmanay Live' was broadcast live from the building. With Jim's career flourishing in the 1970s,--including winning Grampian TV Personality of the Year—Dunblane Hydro firmly established itself as a jewel in the crown of Scottish hospitality.
In 2008, following a period of several owners, the Ability Group purchased the hotel. A year later, the Ability Group relaunched the Dunblane Hydro as a DoubleTree by Hilton hotel. Ability Group invested £12 million to renovate the hotel, in which all aspects of the Dunblane Hydro received a stylish overhaul that still paid tribute to the hotel's historic past.
DoubleTree by Hilton Dunblane Hydro, a member of Historic Hotels Worldwide since 2018, dates back to 1878.