DoubleTree by Hilton Hotel Utica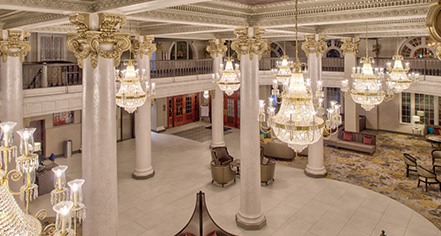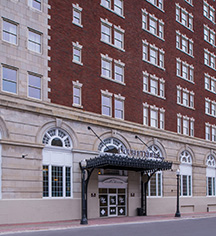 History
1912: Hotel Utica opens on March 11 with 1,500 invited guests. President William Howard Taft stays at the hotel while attending the funeral of Utica native, Vice President James Sherman.
1920s: Franklin Roosevelt stays and campaigns from the hotel. During prohibition, nearby F.X. Matt Brewing Company is the only brewery in Utica to avoid bankruptcy. The hotel's basement tavern was known to continue to serve F.X. Matt beverages.
1926: Four additional floors added atop the hotel to meet the needs of the traveling public.
1928: Amelia Earhart and 348 guests attend a luncheon in her honor in the ballroom.
1933: Prohibition ends on April 7 and F.X. Matt Brewing Company holds a parade from the brewery to the hotel, officially selling Utica Club as the first beer sold after prohibition in the United States.
1939: Lionel Hampton and his Orchestra play to a dancing crowd in the ballroom.
1940s: During the war years, many famous people stayed at the hotel, including the New York Yankees for Hall of Fame Games, Dinah Shore, Kate Smith, Ida Lupino, Eddie Cantor, Victor Mature, Jimmy Durante, The Andrew Sisters, Sophie Tucker, Rita Hayworth, and Veronica Lake.
1950: Judy Garland sang from the mezzanine and meets the hundreds of fans who came to see her.
1955: Other notables guests include: First Lady Eleanor Roosevelt, Nelson Rockefeller, Jackie Robinson, Bobby Darrin, and Johnny Cash.
1960s: Bobby and Rose Kennedy stay during a campaign trip.
1972: Hotel Utica closes after 60 years and eight months of continuous operation.
1974: Hunter House Adult Facility opens and operates until 1995, when it is relocated.
1998: Joseph Carucci and Charles Gaetano purchase the hotel and $13 million renovation begins.
2001: The hotel re-opens on April 4 with Governor Pataki present for the ceremony. Hotel Utica joins Historic Hotels of America, an official program of the National Trust for Historic Preservation.
2009: After several fairly successful years, the hotel is listed for sale as back taxes go unpaid.
2016: Visions Hotels, an award-winning Hotel Management Company based out of Corning, New York purchases the hotel, allowing for all back taxes to be paid and the hotel to remain open.
2016: In November, construction begins for Hotel Utica to join the Hilton family of brands as the DoubleTree by Hilton Hotel Utica.
2017: On September 12, Hotel Utica officially becomes DoubleTree by Hilton Hotel Utica.
DoubleTree by Hilton Hotel Utica, a member of Historic Hotels Worldwide since 2018, dates back to 1912.