DoubleTree Suites by Hilton Hotel Detroit Downtown - Fort Shelby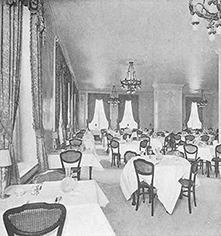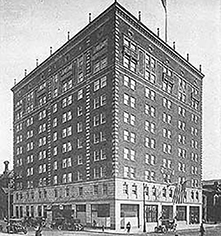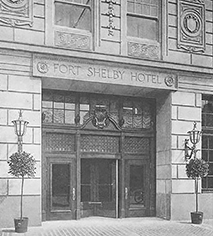 History
DoubleTree Suites by Hilton Hotel Detroit Downtown - Fort Shelby contains historical roots that date back to 1779, with its name stemming from a Colonial-Era fort, originally known as Fort Lernoult. Constructed and given to the United States by way of the Jay Treaty, the fort accelerated the motion that ended the Revolutionary War.
The fort then saw another event of supreme historical significance in 1905, when it was reestablished as Fort Detroit. This time, it was a pivotal player in the War of 1812, as it was captured by British, Indian, and lastly, American troops during the Battle of Lake Erie. During this historic victory, the front was led by Kentucky Governor Isaac Shelby and was renamed in his glorious honor as Fort Shelby.
Sadly, Fort Shelby grew desolate and ragged, and was eventually demolished in 1827. On this very land, destruction led to opportunity as the Chicago architectural firm Richard E. Schmidt, Garden & Martin constructed The Fort Shelby Hotel in 1917 boasting Beaux-Arts style, which cost $890,000 to build. The plot, an ideal location near the Detroit River, Union Station, and Detroit's Financial District cost an additional $200,000. The downtown hotel became revolutionary, as it was the first in Detroit with servidors, or a service comparment that allowed a door into the hallway for deliveries to guestrooms.
The hotel saw many renovations in 1927, when it featured a 22-story addition crafted by Detroit legendary architect, Albert Kahn. Following this, the historic hotel entered a period of turmoil after the Great Depression, when it underwent a change of ownership and was purchased by J.E. Frawley. Throughout the times of World War II, Detroit's industry supplemented wartime production, causing the hotel to return to a time of busy traffic yet again.
As business ebbed and flowed, the hotel was eventually closed in 1973, with another opening period on February 25, 1974, this time as The Shelby. The hotel afforded innovative concepts, including apartment-style accommodations and a Subway Disco meeting space intended to give the destination a youthful ambiance. Unsuccessful, The Shelby closed its doors a mere three months after opening and remained dormant until 2000, when Gene Curtis purchased the building. At this time, the hotel was renamed to DoubleTree Suites by Hilton Detroit Downtown - Fort Shelby, with an opening date of December 15, 2008. Since its revival, the historic Michigan hotel has remained a pinnacle of Detroit's hospitality industry, inviting guests to experience an outstanding stay time after time.
Hilton Hotel Detroit Downtown - Fort Shelby, a member of Historic Hotels Worldwide since 2015, dates back to 1917.