Dromoland Castle Hotel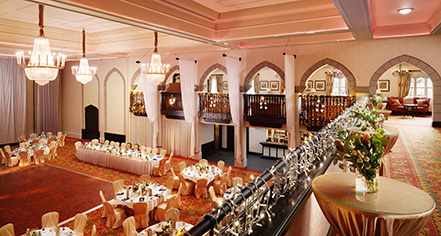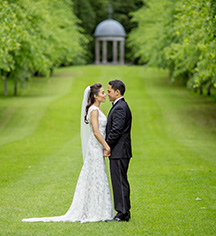 Weddings
Wed like a royal at Dromoland Castle Hotel. This magnificent historic castle is surrounded by 450 acres of beautifully landscaped grounds and over 7,000 square feet of space indoors for holding a fantastic wedding ceremony and reception. This location promises history, grandeur, and luxury in a neat, bespoke package. Hold a champagne reception on the manicured lawns, pull up to the ceremony in a horse drawn carriage, exchange vows in the Walled Garden, and dance the night away in the Brian Boru Hall. Hold a cozy event in the Drawing Room or the Terrace Room. Both feature incredible views of the classic Irish estate's lush green lawns, lovely fountain, and ancient woodlands. Brian Boru Hall can hold up to 300 guests for a grand affair, and features arched balconies, heraldic banners, chandeliered ceilings, and rich wood paneling for a unique, romantic atmosphere.
Dromoland holds a commitment to only host one wedding party per day, giving each couple the attention they deserve. Packages offer a complimentary bridal suite for the wedding night, complimentary personalized menus and place cards, specially discounted rooms for guests, and gorgeous locations for wedding photos and videos. For the first toast of married life, Dromoland's wine cellar holds a range of vintages from around the world and the expert sommelier at the castle can assist in choosing what is best for the special day. Also, a dedicated team from the spa and hair salon are on hand to pamper, calm, soothe, and add the finishing touches on the day of the wedding.
Plan the wedding everyone will be talking about for years to come with renowned event organizer, Olivia Buckley International. Enjoy a feast meant for kings with unparalleled service, luxury accommodations for guests, and gorgeous views as far as the eye can see. The big day can be intimate or grand, traditional or informal, whatever the happy couple's wishes are, they are granted at this grand 16th century castle. After decades of experience, the wedding team at Dromoland Castle Hotel has perfected the art of hosting unforgettable weddings from first consultation to the grand exit. From a perfectly outfitted coachman, a welcoming bagpiper, professional florists, jazz trios, string quartets, dance bands, and DJs, to wedding cake artisans, everything is available for the wedding of the year at Dromoland Castle Hotel.