Engø Gård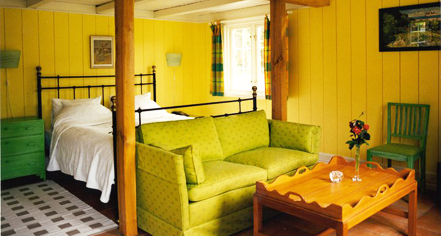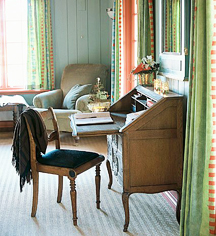 Accommodations
Divided between seven buildings, Engø Gård's 44 guestrooms are not numbered but rather assigned a name based on the farm's history, enriching the property's pride for its tradition. Because of their multiple locations, each guestroom has a unique and personalized layout and style, all featuring their own charm with interior and fabrics in various color combinations. While each offer gracious warmth, guestrooms remain cohesive and are mostly furnished by the collection of renowned interior and furniture designer and Alf Stures.
Pensjonatet / The Guesthouse
While the exterior remains unchanged, the original dining room Pensjonatet was converted to a the main guesthouse where the reception area is situated. During renovations, efforts were made to retain the Carl Larsson-feel to the library and breakfast room, by keeping the original colours used on the doors, windows, beams and moldings. All five guestrooms are situated on the first floor accessible from the reception area, fitted with Jensen mattresses, and Laura Ashley or Tricia Guild textiles and wallpaper.
Årstidene / The Seasons
With four guestrooms on each floor, this two-story house has a motif that celebrations the four seasons. Rooms names are assigned by colors and reflect the appointed seasons. All guestrooms feature a private balcony or terrace and Tricia Guild wallpaper and textiles.
Stallen / The Stable
Completed in 2011, The Stable is a two-story building comprised of twenty guestrooms. With the Engo charm and comfort present in every aspect of the guestrooms' layout and design, guests are still able to find peace and tranquility in the well-preserved Tjøme idyll, far away from the hustle and bustle. All guestrooms are brightly-lit with expansive windows.
Vinhuset / Wine House
Situated in the original hay loft above the wine cellar, converted from a potato storeroom, the Ask and Embla guestrooms are named after the first man and woman in Old Norse mythology. Ask and Embla guestrooms feature a tub, French double bed fitted with Jensen mattresses, and offer a private terrace with seating area.
Drengestuene / Servants Quarters
Now home to two spacious guestrooms, Frithjof and John, with lofts, the original servants quarters consisted of four bedrooms, a laundry room, garage, and workshop. Named after the brother and architect of the original Pihls Pensjonat inn, Frithjof and John guestrooms were designed by designer Tricia Guild, feature a separate seating area, and can accommodate up to four guests.
The Solstuene
Exposed beams and the Norwegian hardwood create a charming ambiance to the four deluxe guestrooms in the Solstuene. Each guestroom is delegated its own tree, either oak, maple, alder or ash, using the same wood in the rooms private staircase, and bed fence of its own design. All four deluxe rooms are fitted with Swedish textiles by Tricia Guild and a private patio.
Engø Gård, a charter member of Historic Hotels Worldwide since 2011, dates back to 1845.