Fairmont Chateau Lake Louise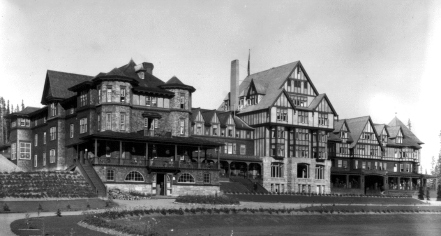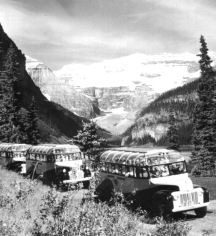 History
Located in Alberta, Canada, Fairmont Chateau Lake Louise is more than a grand luxury hotel; it's a major part of Canada's colorful history. The hotel itself has beginnings with the naming and colonization of Lake Louise. While employed by the Canadian Pacific Railway in 1882, Thomas Wilson was procuring equipment for construction when he heard the sounds of a nearby avalanche. His native companions informed him the sounds were coming from the "snow mountains above the lake." They took him there on horseback and what he saw, he named Emerald Lake because of its blue and green water.
In 1890, Canadian Pacific Railway general manager Cornelius Van Horne had a one-story log cabin constructed on the shore of Lake Louise. This small log cabin had one central area that was used as a dining room, office, bar, and gathering room, as well as a kitchen, and two small bedrooms. He called it Chalet Lake Louise and it hosted visitors from various stations along the railway line, as well as day visitors from the Banff Springs Hotel. While just 50 guests stayed in 1890, by 1912, that number had risen to 50,000. Despite two fires, his tiny cabin would become today's Fairmont Chateau Lake Louise.
In August 1896, American lawyer Philip Abbot fell to his death while climbing Mount Lefroy. His was the first recorded death from mountaineering in North America. His unfortunate death influenced the Canadian Pacific Railway to hire two professional Swiss mountain guides for the safety of visitors wishing to reach the summit. These guides taught thousands of visitors and locals to mountain climb and ski over the next 55 years.
Due to the rise in popularity of mountain climbing, people began to holiday at Lake Louise for the purpose of this act, as well as horseback riding, stargazing, and more. Considered the "Hollywood North," many early films were shot at Lake Louise with stars such as John Barrymore, Betty Grable, and Carmen Miranda. Stars also visited in droves including Mary Pickford, Douglas Fairbanks, Alfred Hitchcock, Marilyn Monroe, and Superman himself, Christopher Reeve.
The 1940s brought WWII and Fairmont Chateau Lake Louise closed to the public. However, Lake Louise was still used by scientists from the Universities of Alberta, Saskatchewan, and Manitoba to develop the Pykrete. The Pykrete is a difficult to shatter and slow to melt mixture of wood pulp and ice, which was intended to be used a tool of war to create floating ice platforms for equipment transport. It was scrapped in favor of faster techniques.
Besides skiing, the area became popular for other adventures. Locals and guests began carving the logging trails and flying over jumps at Tunnel Mountain in the 1920s. Full scale ski areas were in operation by the 1930s. This caused Fairmont Chateau Lake Louise to open the resort year-round during the peak winter holiday seasons in the 1970s. This eventually led to the 1988 Calgary Winter Olympics being held in Banff National Park. Today, Fairmont Chateau Lake Louise hosts the Lake Louise World Cup every November for winter sport enthusiasts far and wide.
Fairmont Chateau Lake Louise, a member of Historic Hotels Worldwide since 2018, dates back to 1911.