Fairmont Copley Plaza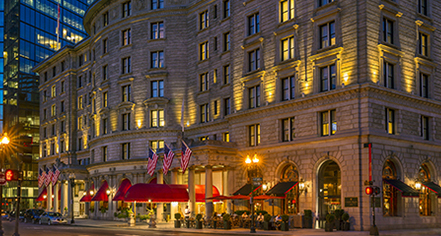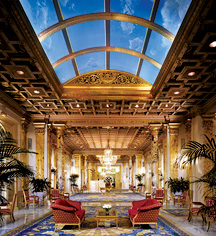 History
Located in Boston's historic Back Bay, Fairmont Copley Plaza stands alongside the Boston Public Library, Trinity Church and Hancock Tower as one the architectural landmarks of Copley Square. The hotel's Oval Room, considered one of the most beautiful rooms in Boston, features a realistic sky-and-cloud ceiling mural.
Legend has it that when John Singer Sargent was painting the murals at the Boston Public Library, he would often come to the hotel and watch the artisans paint the Oval Room's mural as he ate his lunch. The day when the artisans asked Sargent to add his touch to the mural, he mounted the scaffolding and painted an angel. Sargent's angel graced the ceiling for over 30 years until the mural was painted over during renovations in the 1940s. Today, the angel is the invisible guardian of the Oval Room.
Nearly every U.S. president since Taft has stayed at Fairmont Copley Plaza. Many foreign dignitaries, royalty and countless celebrities have also graced this Boston hotel.
Fairmont Copley Plaza, a member of Historic Hotels Worldwide since 2013, dates back to 1912.