Fairmont Hotel Macdonald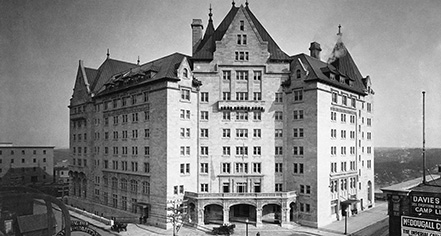 History
The Fairmont Hotel Macdonald has been an iconic figure against the Edmonton skyline since its opening on July 5, 1915. Setting the bar for hotelier excellence in Alberta, the Fairmont Hotel Macdonald has long been known for its elegance and draw as a luxury destination. The construction of the hotel, high on the bank overlooking the North Saskatchewan River Valley, took four years. The hotel was named after Sir John A. Macdonald, Canada's first Prime Minister. Built in a Chateau style, the seven-story edifice includes materials such as Indiana limestone and copper and the final building costs totaled $2,250,000, which would be over $35 million today.
Due to the popularity and luxury status of this grand hotel, many prevalent guests have visited over the years. In 1939, a royal visit from King George VI and Queen Elizabeth The Queen Mother, caused Edmonton's first traffic jam as well-wishers gathered to catch a glance. The grandest suite in the hotel is named after The Queen Mother; the two-story suite includes a large foyer, dining room, service pantry, two bedrooms, two and a half bathrooms, and a large, spacious living room.
To accommodate the hotel's high demand, a 16-story, 300-room addition was built in 1953. However, the structure was noticeably different from the original style and was referred to as "the Mac and the box it came in." The difference was so problematic that the structure was demolished soon after it was built.
Unfortunately, the Fairmont Hotel Macdonald was forced to close in 1983 due to disrepair. However, in 1985, the City of Edmonton declared the hotel a Municipal Heritage Resource, which saved it from being wrecked. It was the first building in the city to receive this distinction. It was purchased by Canadian Pacific Hotels in 1988, and they committed to restoring the Fairmont Hotel Macdonald to its original glory and re-establish its importance to the community. It re-opened in 1991, boasting modern convenience, Victorian elegance, and a preserved heritage. This restoration also included the addition of specialty suites in what had once been the attic. Due to the unique construction of the building, these suites have turret spaces and magnificent views of valley below and the city of Edmonton. To pay homage to Fairmont Hotel Macdonald's roots, the door knobs in all 198 of the guestroom closets are original and bear the Grand Trunk Rail monogram. The hotel also underwent renovation in 2017 and is more ready than ever to continue adding to its long history.
Fairmont Hotel Macdonald, a member of Historic Hotels Worldwide since 2018, dates back to 1915.