Fairmont Hotel Vancouver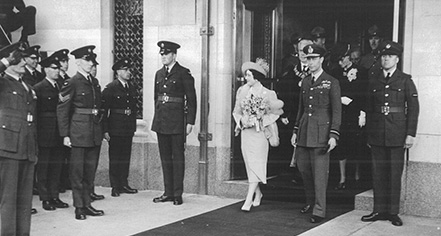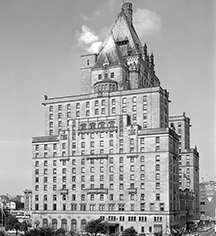 History
Known as the "Castle in the City," the Fairmont Hotel Vancouver is a timeless luxury nestled in the heart of Vancouver. In 1887, the original Hotel Vancouver was constructed as a four-story brick hotel with 60 guestrooms. The second Hotel Vancouver was built on the same site from 1912-1916 and was a known meeting place for Vancouver socialites. After several years, this reincarnation of the Hotel Vancouver began to deteriorate and was demolished. Finally, in 1928, the third and present Hotel Vancouver was established.
Designed by Archibald and Schofield in the Art Deco style, the current Fairmont Hotel Vancouver took over 11 years to be completed due to construction delays during the Great Depression. The Canadian National Railway originally started the construction, and soon partnered with the Canadian Pacific Railway to complete the project. Once the chateau-style green-copper-roofed landmark in Vancouver's downtown was completed, its costs has surpassed $12 million dollars. In 1939, the building was officially opened to the public by inaugural guests King George VI and Queen Elizabeth during their Royal Tour of Canada.
As a city landmark, the hotel has hosted many significant events. The King of Swing, Dal Richards, originally performed with his orchestra in the Panorama Ballroom (known today as The Roof), beginning a career that would span decades. The Canadian Broadcasting Corporation also began broadcasting from the hotel's 17th floor, their home until 1975. The several ballrooms in Fairmont Hotel Vancouver were so lavishly decorated that baths were outfitted with marble sinks and gold-plated faucets. Again, the landmark Hotel Vancouver welcomed the city's socialites. Famously, the hotel's exterior was used as the exterior for the fictional Tipton Hotel of the Disney Channel television show, The Suite Life of Zack & Cody.
Recently, the Fairmont Hotel Vancouver has been extraordinarily renovated for $55 million dollars. These renovations have highlighted the history of this iconic hotel through restoring various historical aspects, as well as modernizing the amenities for future generations. In 2019 the Fairmont Hotel Vancouver will celebrate its 80th anniversary.
Fairmont Hotel Vancouver, a member of Historic Hotels Worldwide since 2018, dates back to 1939.