Fairmont Hotel Vancouver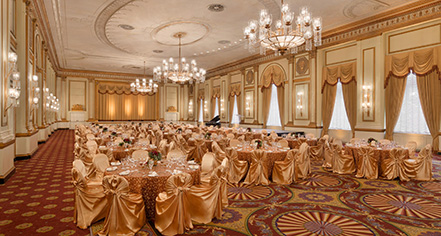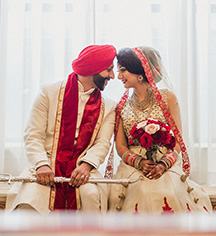 Weddings
Begin an exciting chapter of life at the Fairmont Hotel Vancouver in grand style. Dedicated wedding planners take on the task of creating a fairytale day, so it can be enjoyed stress-free. These certified wedding specialists offer the highest level of services, as do the valued partners of Fairmont Hotel Vancouver. Guests of the wedding can enjoy a pre-ceremony cocktail hour, followed by a gourmet meal and dancing the night away in one of several ballrooms. Holding an event at the Fairmont Hotel Vancouver will create a memorable experience for all. Several packages are available, featuring amenities such as a stay in the Gallery Suite for the newlyweds, an engraved wedding cake knife, late checkout for the bridge and groom, custom printed menus, anniversary dinner in Notch8, and cloche service for the Head Table.
The Boardroom
Decorated with a sense of grandeur, this 18-foot ceiling room features an opulent crystal chandelier, beautiful drapery, and Palladian windows. The Boardroom seats up to 130 attendees comfortably.
British Colombia Ballroom
The sunken British Columbia Ballroom offers 5,500 sq. ft. of event space, recessed ceilings, large chandeliers, hand decorated carpets, and molding trimmed walls. This space is suitable for up to 1,500 guests.
Pacific Ballroom
The Fairmont Hotel Vancouver's most elaborate event space, the Pacific Ballroom, features 23-foot high ceilings, elegant crystal chandeliers, cast moldings, gold and silver leafed ceilings, and soaring windows. Recently updated with state-of-the-art sound and power, this room can hold up to 1,000 guests.
Vancouver Island Room
This ornate room features gold leafed ceilings, four sets of French doors, and marble floors. The Vancouver Island Room adjoins the Pacific Ballroom foyer and the British Columbia Ballroom.
The Roof
Located on the 15th floor, The Roof is a 5,200 sq. ft. event and meeting space. The room is lined with floor to ceiling windows, granting views of the city of Vancouver. This one-of-a-kind location is perfect for groups of 200 for dinner or 300 for a reception.