Fairmont Jasper Park Lodge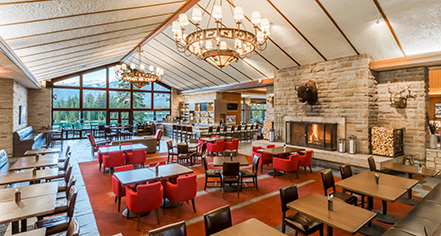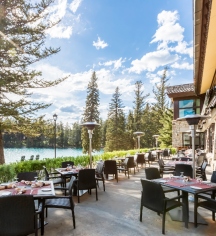 Dining
Fairmont Jasper Park Lodge features four restaurants and two bars on premises with breathtaking views and superior service at each. Warm Canadian hospitality, combined with outstanding service and culinary delights, makes for an exceptional fine dining experience. Executive Chef Christopher Chafe works with his outstanding culinary team to create stunning regional dishes that include local and organic ingredients.
Orso Trattoria
Looking to find the best Italian restaurant in Jasper? Look no further. Orso Trattoria features fresh ingredients, casual dining, and beautiful views of Lac Beauvert from the most scenic patio in Jasper, Alberta. A partnership with Twin Meadows Farms in McBride, British Columbia, gives the restaurant access to some of the purest, healthiest produce in Canada. Indulge in an authentically local twist on Northern Italian food, paired with stunning mountain and lake views. Orso also features an abundant selection of Italian and Canadian wines.
Moose's Nook Chophouse
A classic chophouse showcasing wild game, organic meats, and local seafood, Moose's Nook Chophouse has a rich and cozy atmosphere with a roaring fireplace and live music. It is the perfect place for an authentic Canadian experience.
Oka Sushi
Oka Sushi is a small, intimate sushi bar located on the Beauvert Promenade at Fairmont Jasper Park Lodge. Run by Sushi Chef Tatsuhiko Okaki, Oka Sushi is a favorite among guests and locals alike. Fresh seafood is always on the menu, with products shipped in from Japan and Vancouver. Any sushi lover will appreciate the high quality and warm customer service of this charming sushi restaurant. Oka Sushi is an "ala-minute" Sushi Bar that accepts advance reservations between 6:00 p.m. and 6:30 p.m.
The Emerald Lounge
Unwind mid-day in the Emerald Lounge, a room that evokes a sense of relaxation, or enjoy Jasper's best patio, open during the summer months, to take in the stunning views of Lac Beauvert and Whistler's Mountain. This relaxed location hosts the perfect backdrop to sample a menu of classic cocktails or a cold pint of Jasper Brewing Company beer. Come in throughout the day for a selection of light fare and shareables, gourmet burgers, and authentically local entrees while cozying up near the fire.
Thompson's Terrace
Stanley Thompson, master golf architect, displayed some of his finest work when he designed the 18-hole Jasper Park Lodge Golf Course. Even today, few courses match its majesty. The chefs strive to do the same with their culinary creations. Thompson's Terrace offers take-out options, creative sandwiches, cold beverages, and snacks to satisfy every appetite before enjoying the challenging golf course. Signal Mountain stands in the backdrop of Thompson's Terrace and the seasonal Grill and Patio. Enjoy seasonal barbeque fare, hot off the grill and nature's splendor in this enchanting location.
Fitzhugh's To Go
Fitzhugh's To Go specializes in locally roasted coffee sensations, Fairmont blended teas, and specialty drinks, perfect for a mountain adventure or the trip home. Grab a picnic lunch of gourmet sandwiches and deli treats for an afternoon exploring the Canadian Rockies, or simply relax and indulge in the offering of pastries and baked treats. An assortment of take home gifts and goodies are available.