Fairmont Le Château Frontenac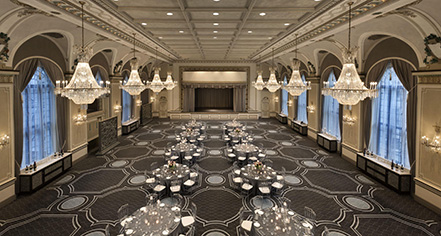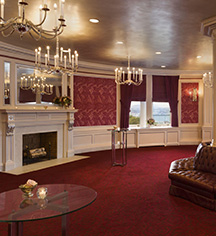 Meetings & Groups
A city landmark, Fairmont Le Château Frontenac offers a truly inspirational venue for a meeting, seminar, or conference in Québec City. Matched with superior meeting and business facilities, effortlessly combined with the latest technological needs, the hotel's attentive and experienced staff has built a deserved reputation for ensuring every Québec City meeting is a resounding success. Outside business hours, delegates can enjoy Québec's dynamic nightlife, variety of arts and crafts, and an incredible array of historical sites.
Equipped with the latest technology, an additional 15,000 square feet of meeting space is being added, to total 40,000 square feet in 23 meeting rooms, conveniently located on two floors and able to accommodate anywhere from 20 to 600 people. A complete business center as well as an on-site audio visual company is available within the hotel. Fairmont Le Château Frontenac's team of professionals will work with every party, advising the best course of action to take based for every need. Regardless of the season or the event, Fairmont Le Château Frontenac unfailingly rises to the occasion.
Whether it's a garden party, a business breakfast, or a gala dinner held in one of the city's numerous historical and cultural sites, the catering service at Fairmont Le Château Frontenac will fulfill every wish.
The Ballroom - Guests will be mesmerized as they make their entrance into the Grand Ballroom. An atmosphere of luxury is complemented by the glow of ten grand crystal chandeliers, plush, elegant carpet, and a theater stage draped with ivory velvet curtains. Inspired by French classicism, the Ballroom of Fairmont Le Château Frontenac was part of the 1920-24 hotel expansion project designed by the Maxwell brothers. The ten chandeliers, made of Bohemian crystal, were installed in 1967. The Ballroom has hosted many important balls and receptions – in February 1969, Princess Grace of Monaco and the Prince Rainier III of Monaco were guests of honor for the Queen's Ball during Winter Carnival.
The Rose Room - Nestled into the main castle turret, the Rose Room offers a breathtaking view of the river through its deep, spacious windows. Formerly a Tea Room, the Rose Room served for several meetings during the Second World War's Québec Conferences in 1943 and 1944. William Lyon Mackenzie King, Prime Minister of Canada, played host to these historic meetings, welcoming British Prime Minister, Sir Winston Churchill, and US President Franklin D. Roosevelt.