Fairmont Le Château Montebello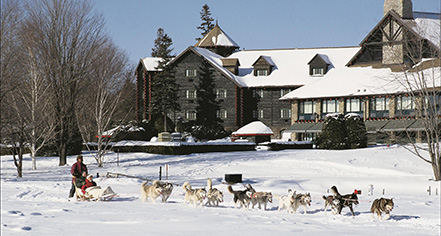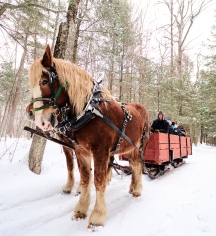 Local Attractions
The Fairmont Le Château Montebello is encompassed by rustic charm and natural beauty that encourages outdoor adventure. Due to the unique location of the resort, local attractions, shopping and dining experiences are unsurpassed. Guests can immerse themselves in the region's history, explore the scenic landscape, and shop for one of a kind products all within a few miles of the Fairmont Le Château Montebello.

Whitefish Activity Center
Those looking for adventure should head to Kenauk Nature, one of North America's largest and oldest private fish and game reserves, to enjoy the Whitefish Activity Center. Surrounded by scenic landscapes, visitors can enjoy Whitefish Lake with guided canoe or kayak rides or discover the characteristics of the forests with a guided hike.
Les Brasseurs de Montebello
Discover this local pub to find the best craft brews. Recently granted a brewing permit, Les Brasseurs de Montebello brews fine beverages such as the Kenauk Ale, La Reine du Mont Vinoy, and a unique IPA, each of which is made with a series of hops such as the nugget, cascade, mandarina Bavaria, and Lemon Drop.
Fromagerie Montebello
Savor the flavors at Montebello's very own cheese factory, with delicious local products, home-made ice cream and jams, and some the best cheeses available anywhere.
Land Rover Experience Center Montebello
While sitting beside the immense fireplace inside the Fairmont Le Château Montebello and planning out the day, consider reserving a seat at the Land Rover Off-Road Driving Experience. With 65,000 acres of unspoiled wilderness in Kenauk Nature Reserve, this adventure lets visitors navigate an exciting course of technical woodland obstacles.
ChocoMotive
Housed in an old train station in Montebello, guests can learn about the chocolate making process and watch master chocolatiers create hand-crafted confections in a range of flavors.
Manior Papineau
Located on the grounds of Fairmont Le Château Montebello, this National Historic Site of Canada is a prime example of a Seigniorial manor and is the historic estate of Louis-Joseph Papineau. Guided tours are available for guests of the resort.
Parc Omega
Located just 10 minutes from the hotel, Parc Omega allows guests to discover the nature, fauna, and history of the 11 First Nations of Quebec. Trails are available for walking or guests can traverse through the park by car for an hour and a half tour to observe and feed animals from the Northern Hemisphere.
Whitewater Rafting
Spend the day on the Rouge River in an inflatable boat steered by passionate guides, just 20 minutes from the Montebello resort. This activity is fun for the whole family!