Fairmont Le Manoir Richelieu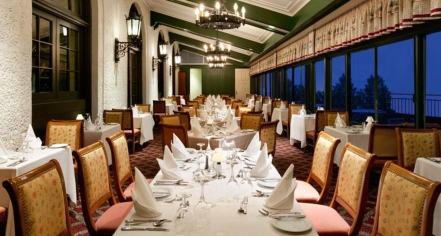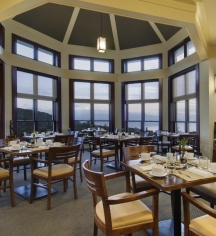 Dining
Known for its gastronomy, Fairmont Le Manoir Richelieu offers a mouthwatering dining experience in each of its five restaurants. Showcasing high quality local food is Le Charlevoix, named for the area the hotel resides. Le Table et Terroir features similar cuisine in a more casual setting, while Le Saint-Laurent serves up a flavorful, overflowing buffet. Guests can sip on single malts, ports and martinis while gazing out on to the St Lawrence River at La Brise Bar. Limited in-room dining service is also available.
La Brise Lobby Bar
Enjoy the relaxing atmosphere of the La Brise bar, which boasts a stunning view of the St Lawrence River. On weekend evenings, come and enjoy a live musical performance with a large selection of songs ranging from timeless classics to today's hits.
Le Charlevoix Restaurant
Discover innovative regional cuisine showcasing fresh and local products featured in a Charlevoix cultural theme. Le Charlevoix restaurant incorporates elements of the region's produce, history and artwork in a unique setting overlooking the St Lawrence River. Refurbished antiques set the ambience while local art is represented in original pieces created exclusively for the dining room. Choose between the tasting menu and the à la carte menu, all while admiring the beautiful St Lawrence River. Le Charlevoix offers guests an outstanding selection of wines from more than 300 labels.
Le Point Cardinal Restaurant
Le Point Cardinal, the golf course's clubhouse, offers another great option for dining. Have a drink after a round of golf or simply to enjoy the breathtaking view. A shuttle service allows non-golfing guests to also enjoy this restaurant during the golf season.
Le Saint-Laurent Restaurant
Discover the relaxed atmosphere of Le Saint-Laurent restaurant and enjoy the celebrated buffets while admiring the views of the majestic St Lawrence River. The entire family will be thrilled by the extensive selection of dishes available, including a kid's corner.
Table et Terroir Restaurant
Appreciate the relaxed atmosphere of this restaurant, offering multiple menu options showcasing local cuisine. Guests will surely adore the lovely outdoor terrace during the summer season. As part of ''La route des saveurs de Charlevoix'', many products used in the menu come from local farms, helping respect the Fairmont Le Manoir Richelieu's commitment to environmental stewardship by offering fresh and locally sourced items to guests.