Fairmont Le Manoir Richelieu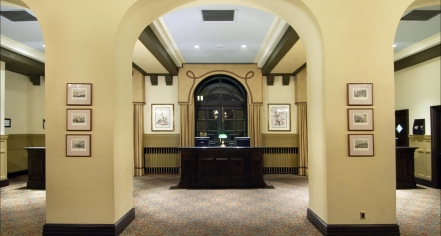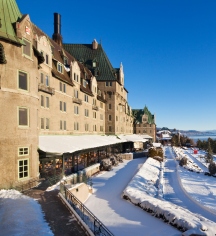 History
Fairmont Le Manoir Richelieu was built to accommodate the growing region of Charlevoix in 1899. Sportsmen had been visiting the location since 1761 for fishing and relaxing. The resort was built on top of Pointe-au-Pic overlooking the St Lawrence River in Charlevoix and had 405 rooms. It became popular immediately due to its enviable location and ambiance.
The resort was open seasonally and upon closing for the winter in the fall of 1928, a fire destroyed the building. Just one month later, John Archibald, a renowned Canadian architect, was given the task of rebuilding the hotel. Archibald chose to design the new building in the style of a French castle and the new hotel was inaugurated in June 1929. Fortunately, the 27-hole championship golf course, designed by British architect Herbert Strong, was not harmed during the fire. It was opened by United States President William H. Taft in 1925 and was considered Canada's Golf Resort of the Year in 2000. In 1998, a $140-million renovation and expansion went in to the Fairmont Le Manoir Richelieu, which reopened in 1999 to rave reviews and has been wowing guests ever since.
Timeline of Notable Events
1899: The first Manor opened, built for the Richelieu and Ontario Navigation Company, by architect Edward Maxwell.
1925: The gold course was inaugurated in the presence of William Taft, President of the United States, and Herbert Strong, landscape architect.
1928: On 12 September, a fire completely destroyed the Hotel as it was closed for the winter. Fortunately, the golf course was spared.
1929: On 15 June, the present-day hotel re-opened after 8 months of intense construction, headed by architect John Archibald.
1970: The Coverdale Art collection, a colossal gathering of artifacts collected by the President of Canada Steamship Lines William Coverdale over the course of 20 years, was sold to the Archives of the Canadian Government and National Gallery of Canada.
1998: Loto-Quebec, Canadian Pacific hotels and Resorts, and the FTQ union acquire the hotel, and close the property for construction and renovations.
2004: With the addition of another 9 holes and the reconfiguration of the entire course, the golf boasts a beautiful, high-caliber 27-hole course, designed by landscape architect Darrell Huxham.
2012: The Charlevoix restaurant in the hotel is awarded the prestigious AAA/CAA Four Diamond Award.
2016: Extensive, $12-million renovations are completed.
2017: The Moment Spa Le Manoir Richelieu is awarded Best Luxury Hotel Spa at the 2017 World Luxury Spa Awards.
2018: Fairmont Le Manoir Richelieu hosts the 44th G7 Summit, attended by the leaders of Canada, France, Germany, Italy, Japan, the United Kingdom, and the United States.
Fairmont Le Manoir Richelieu, a member of Historic Hotels Worldwide since 2018, dates back to 1899.