Fairmont Le Manoir Richelieu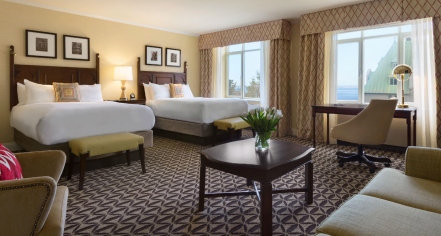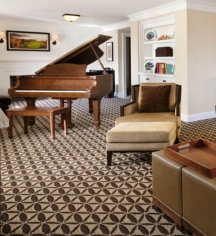 Room Types
Fairmont Room
These delightful rooms, located throughout the hotel, offer elegantly appointed accommodations for a couple or a single traveler looking to experience the nature of the region or indulge in the delicious gastronomy of Charlevoix.
Fairmont View Room
Come experience the charm of Fairmont View rooms, with their château style overlooking the majestic St Lawrence River. These rooms are perfect for couples or single travelers looking to enjoy their next vacation in the Charlevoix region.
Deluxe Room
Enjoy an escape outside city limits in a Deluxe Room. These impressive accommodations offer additional space for extended stays and for families looking to spend a memorable vacation in Charlevoix.
Deluxe View Room
Experience the beautiful scenery of the majestic St Lawrence River from a Deluxe View room. In addition to the hotel's best views, these accommodations offer additional living space perfect for families or extended stays.
Deluxe View Jacuzzi
Spend a lavish romantic weekend in one of the luxurious Deluxe View Jacuzzi rooms, as they offer all the necessary amenities to create an unforgettable getaway. The enchanting view of the St Lawrence River, an inviting open concept room, and a fantastic Jacuzzi are all waiting for a guest to enjoy pure relaxation during their next vacation or special occasion.
One Bedroom Suite
The One Bedroom suites offer a large bedroom adjoining to a beautiful parlor area. These lavish and comfortable accommodations will not disappoint visitors to the majestic region of Charlevoix.
One Bedroom View Suite
Take time and unwind in these luxurious accommodations boasting an inviting color scheme and a majestic view over the St Lawrence River. These suites offer a beautiful bedroom and a comfortable living area, creating an enticing environment for a larger family or extended stays.
Two Bedroom Suite
Two Bedroom suites are ideal for large families as they offer two bedrooms divided by a convenient and spacious parlor. Each section boasts a full marble bathroom as well as a queen-size sofa bed.
La Seigneurie Suite
This amazing presidential suite facing the St Lawrence River will certainly not disappoint. Absolutely nothing has been forgotten in this impressive space. A beautiful Young Chang baby grand piano, a decorative fireplace, a lavish dining area, and a convenient kitchenette are only a few things that the suite can offer guests during their unforgettable vacation. Guests will also find a beautiful master bedroom with an exquisite marble bathroom and a whirlpool. An additional guest powder room can be found next the living room area. This suite would be perfect for holding a small reception or for enjoying an extensive stay in Charlevoix.