Fleischer's Hotel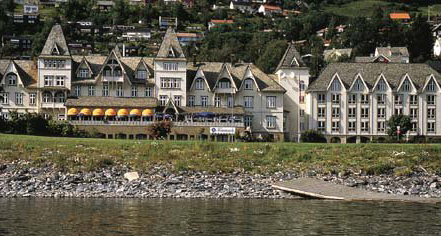 Activities & Events
A town where both fine dining and extreme sports are available, Voss is an ideal location for business or pleasure. The diversity of Voss's possibilities is at visitor's disposal. With Vangsvatnet Lake steps away and the snowy mountain tops at every angle, Fleischer's Hotel can accommodate guests during any season. Visitors come to experience the majestic scenery of never-ending mountains, nearby glaciers and fjords, lakes, and white water rivers.
Summer
Built along the Lake Vangsvatnet, Fleicher's Hotel makes watersports and summer fun readily accessible. For over a century, guests of Fleischer's Hotel have taken advantage of the natural escapes with rafting, fishing and guided hiking along the Nærøyfjord World Heritage Site among visitor favorites. Guests of any activity level can enjoy the offerings of Voss.
Winter
With two ski resorts and a long snow sport history, Voss has been known to be the winter capital among Olympians and World Champions for centuries. With its magnificent peaks, the mountains of Voss are impossible to avoid. During the winter season, outdoor activities of every variety are available, including, but not limited to, skiing, snowboarding, and glacier walking. Fleicher's Hotel associates can help guide guests with selecting a customized itinerary in tune with individual needs and interests.