Fleischer's Hotel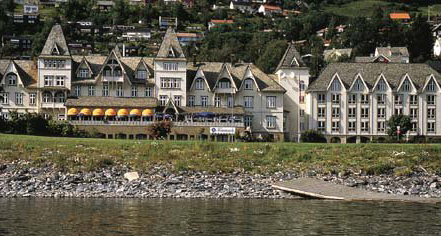 Dining
Fleischer's Hotel is committed to bringing guests a diverse legendary menu among its restaurants.
Magdalene Restaurant
A favorite for locals and visitors, Magdalene Restaurant is a member of Vossameny, an organization with a mission to maintain local traditions, serving cuisine that supports local produce and vendors. Magdalene Restaurant serves authentic Norwegian specialties, rotating ingredients and flavors according to the season. House specialties include smalahove, smoked sheep's head, pinnekjøtt, dried and salted mutton ribs, and fenalår, cured mutton leg.
Fredrik's Bar
Named after the original owner of Fleischer's Hotel, Fredrik's Bar has been a popular watering hole for decades. While the interior of the establishment has been upgraded, the atmosphere remains elegant, yet inviting and relaxed. In the wintertime, Fredrik's Bar is known to host Après-ski where patrons celebrate and socialize after a day conquering the mountains.
Terrace
The Terrace at Fleischer's Hotel is open in the summertime when patrons can bask in the natural beauty that Voss offers. With an a la carte dining experience, The Terrace has bartenders that have created time-tested refreshing beverages to complement each meal.