Fleischer's Hotel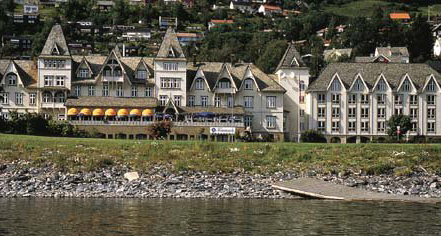 History
Established in 1864, Fleischer's Hotel was opened by Fredirk Lyth Ørum Fleischer and his wife Magdalene. By 1883, the Voss line was built providing easier access for visitors coming from the second largest city and port of Norway, Bergen. The new line validated the successful gateway for increased guests at Fleischer's Hotel resulting in a need for the hotel's expansion. When a fire destroyed the buildings in 1888, the Fleischers took the opportunity to start fresh. Well-known architect Peter Andreas Blix rebuilt the hotel as it stands today with its distinctive Swiss-style spires and balconies.
At the turn of the century, Kings, Kaisers, Emperors, and other prominent guests from all corners of the world frequented the guestrooms of Fleischer's Hotel proving the success and popularity of the hotel. Today, the hotel corridors are adorned with documentation of the aristocratic visits with displays that include an original guestbook, ornate diplomas, King Leopold of Belgium's gold tiepin decorated with diamonds, and the private toilet of Emperor Willhelm II of Germany.
In 1938, the hotel went through a larger expansion adding on a larger veranda, kitchen, pantry, reception area, entrance and cellar. Popular lounges and 13 of the guestrooms were upgraded to include private baths.
During World War II, Fleischer's Hotel was occupied by the Germans. Fortunately, the hotel was among the few buildings in Voss that were not destroyed by bombs and remained in good condition. By the 1950s, Olaf Fleischer Tønjum, the 4th generation of Fleischer management, took over the hotel. Over the next 50 years Olaf oversaw further expansion and redecoration of the hotel. A new wing, conference rooms, swimming pool, restaurants, a bar, and guestrooms were added and decorated to the standards as it is today.
Fleischer's Hotel, a charter member of Historic Hotels Worldwide since 2011, dates back to 1864.