Fossheim Turisthotell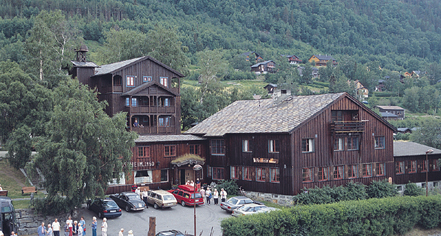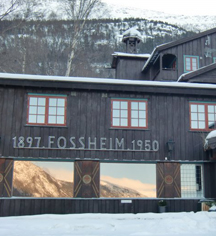 History
Originally a humble staging inn with a two-story log-building, an attic, kitchen, two living rooms, seven bedrooms, and a barn, Fossheim Hotel opened in 1897 by Th. Garmo operating as farm and hotel. Up until the First World War, when motorized vehicles became more common, Fossheim offered a posting section for guests' horses.
When the Second World War broke out, Fossheim saw a greater demand for foreign traveler accommodations, leading to a mass expansion and renovation of the property. In 1950, second generation managers, Dr. Th. Garmo and his wife Ingrid, tore down the old building and erected a larger property with more floors and guestrooms. The naming of one of the buildings Amerika and addition of private baths with showers within each guestroom were influenced by the flourishing number of American visitors. Along with running the hotel and farm, Dr. Garmo managed a grocery store and established a physical rehabilitation facility at property renaming the hotel Fossheim Hotel and Health Resort.
Invited and employed in 1978, Arne Brimi came to Fossheim as Head Chef and inspired a new focus to the hotel. Using local traditions and the freshest local produce and flavors, Arne Brimi and Fossheim built a strong reputation that has made the Fossheim kitchen famous in wide circles.

Today, Fossheim is a collection of solid timber houses, keeping in traditional with Norwegian building techniques, complemented by exquisite art and antiques. The property is also known for its Gaukstadstugu, one of the best preserved timbered houses from the 17th century in Norway.
Fossheim Turisthotell, a charter member of Historic Hotels Worldwide since 2012, dates back to 1897.