Francis Hotel Bath - MGallery by Sofitel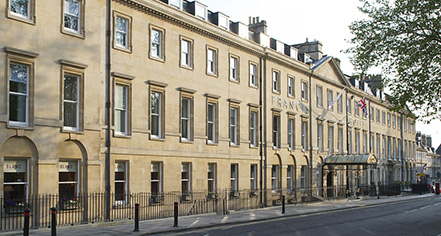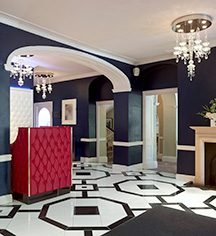 History
Built in the 18th century, the Francis Hotel Bath - MGallery by Sofitel is located in a Georgian townhouse on Queen Square in the city center of English countryside town, Bath. Architect John Wood the Elder, a Bath native, made it his mission to restore the town to what he believed was its ancient glory.
Once one of the most important and significant cities in England, Wood felt that Bath was not given proper recognition. As a solution, Wood created a distinct vision for Bath, with Queen Square as a key component. Queen Square, comprised of Georgian townhomes built between 1728 and 1736, is one of the most important architectural sequences in the city. This magnificent square was built according to the rules of Palladian architecture to resemble a palace, complete with wings and a forecourt. The square was named to honor Queen Caroline, wife of George II, and quickly became a popular place to live among Bath's elite society. Despite being built outside the city walls, the Square is just a short walk to the Abbey, Pump Room, Assembly Rooms, and baths.
After his masterpiece of Queen Square was complete, architect John Wood lived in townhome No. 9 until his death in 1754. By 1858, though most of the townhomes on the south side of Queen Square remained individual dwellings, Soloman Francis opened a boarding house in townhome No. 10. After his death in the 1870s, his widow, Emily, began to purchase the surrounding properties. She expanded the boarding house to include houses Nos. 6-9 and 11, and by 1884, she had combined the seven houses to open the Francis Private Hotel.
Unfortunately, during the Blitz Bath of World War II, the Grade 1 listed hotel suffered significant damage, as almost 80 feet of the hotel's façade was destroyed. However, the hotel was rebuilt after the war and was completed in 1953 by builder J. Hopwood, who seamlessly blended the seven townhouses into one building. An $8 million-dollar renovation in 2012 gave the Francis Hotel its vibrant interiors that celebrate the unique vivaciousness and quirks of the Regency period in which the hotel was originally built. During this renovation, the corridors of the hotel were split by doors, with each subdivision marking the boundaries between the different homes, as well as the restoration of distinct wallpaper in heritage colors and patterns. All of the buildings that house the hotel are designated by English Heritage as Buildings of Exceptional & Historical Interest.
Francis Hotel Bath - MGallery by Sofitel, a member of Historic Hotels Worldwide since 2018, dates back to 1736.