Fretheim Hotel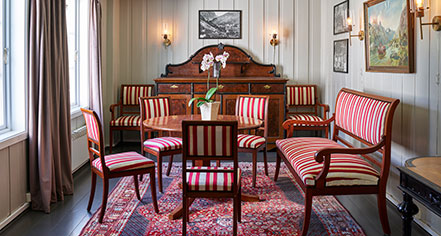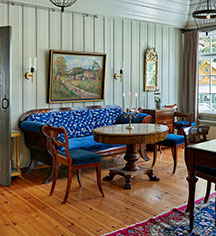 Activities & Events
The Flåm Railway and The Valley of Flåm
Dramatic and scenic like no other, The Flåm Railway is a 20 kilometer long engineering masterpiece offering a journey to Mydral with unrivaled landscape and breathtaking views of western Norway. While best experienced on a bicycle, The Flåm Railway is friendly for walkers and drivers affording a scenic tour of The Valley of Flåm, including deep canyons, snow-capped mountains, raging rivers, and farms dating back to the Viking Age. Bicycle rentals are available.
The Navvies' Road (Rallarvegen)
Originally an old construction pathway built to transport equipment and materials to build the Bergen Railway, The Navvies' Road is a collection of trails, totaling 80 kilometers, careening through stunning alpine scenery, showcasing a number of historic buildings telling the tale of the pioneer builders. With zero vehicle traffic, the road from Haugastøl to Finse and Hallingskeid and Flåm is one of the most spectacular bicycle rides, descending steeply past thundering waterfalls, contrasting landscapes, and charming villages and farms.
Afternoon Tea at Fretheim Hotel
Brought by the visiting English fisherman in the 19th century, afternoon tea is now a cultural pasttime in Flam promoting relaxation and the simple pleasures. Enjoy a variety of teas at the lobby and dining rooms at Fretheim Hotel.
Cultural and Art Attractions
Neighbor to the UNESCO World Heritage Area Nærøyfjord, Flam is a cultural goldmine offering attractions exhibiting the rich heritage of the region, including Flam Railway Documentation Center, Aurland Shoe Factory, Otternes Museum, Holo Farmyard, and the stave churches in Undredal and Borgund.