Fru Haugans Hotel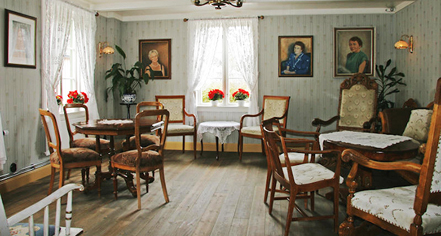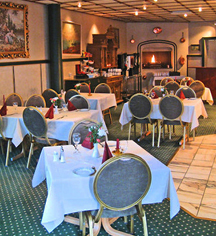 Dining
Using the best local ingredients, Fru Haugans Hotel's two restaurants Ellenstuen and Hagestuen, located in the oldest sections of the building, carry on the age-old traditions in providing comforting and creative cuisine.
Translated as Ellen's Room, Ellenstuen is committed to adapting the menu according to the season allowing to utilize the freshest produce the area has to offer. Ellen's Room stands today as it did in 1866, with old menus and fittings on display, and custom made inviting an intimate and authentic dining experience.
Combining traditional Norwegian comfort foods and cuisine from various European cuisines, the Garden Lodge Restaurant, Hagestuen, is renown for its quality food and service. While it's menu varies weekly to accommodate fresh produce, Mrs. Haugan's most famous dessert, caramel pudding, remains year round for all guests to enjoy.
Original timber walls creates an authentic experience at The Bar at Fru Haugans Hotel to relax and revel in an intimate space. Weekend nights at the bar and lounge have proved to be a popular club venue with a new renovated dance floor and live music.