Gran Hotel Montesol Ibiza, Curio Collection by Hilton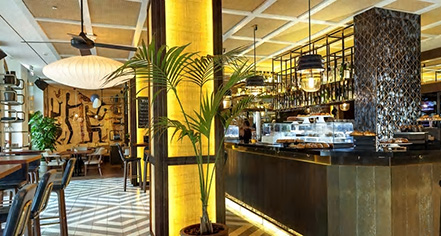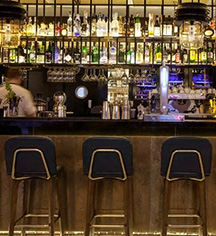 Dining
Gran Hotel Montesol Ibiza, Curio Collection by Hilton has aspired to grant to its guests an unforgettable culinary experience while staying on the island.
Café Montesol
Café Montesol exists to exemplify the hotel's past. Situated on the ground floor of the hotel, Café Montesol is one of the island's iconic restaurants and has been a meeting place for intellectuals since the 1930s. Open all-day, the café offers standard full-course meals, as well as tapas and cocktails.

Managed by internationally renowned Grupo Sagardi, Café Montesol provides high-quality cuisine that encapsulates the unique, Mediterranean flavors of the Balearic Islands. The restaurant also features five inviting spaces in which to dine: the bar, the restaurant itself, the lounge, the bulevar terrace, and The Lock rooftop lounge. All areas are the perfect setting for any occasion.