Gran Hotel Montesol Ibiza, Curio Collection by Hilton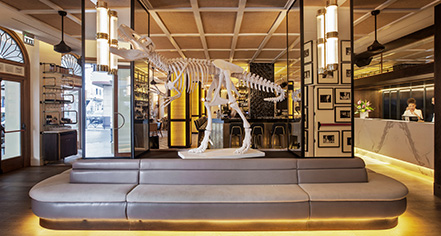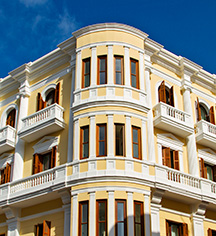 History
The German philosopher Walter Benjamin said that Ibiza was the most unspoiled landscape he'd ever encountered when he disembarked at the Port of Ibiza in 1932. Benjamin's praise epitomized the rising excitement about the island's alluring charm during the 1930s, as more European tourists began traveling to Ibiza for their vacations. Among the influx of people were European artists, who began developing art colonies within the island's small, isolated communities. To better accommodate these new visitors, business entrepreneurs began constructing hotels and other lodgings throughout Ibiza. In 1933, the Gran Hotel Montesol Ibiza became the first hotel to open on the island. Over the next 84 years, the hotel became a significant figure in the evolving culture of Ibiza.
Shortly upon opening, the Gran Hotel Montesol Ibiza was used by the Spanish government as a military barracks during the Spanish Civil War and World War II. Once the fighting subsided, the Gran Hotel Montesol Ibiza quickly re-emerged as a popular hotel on the island. When the postwar era of the mid-20th century ushered in prosperity across Western Europe, Ibiza rapidly became the ideal vacationing spot for many Europeans. New forms of artistic expression emerged on the island from this economic boon, transforming Ibiza into a global center for dance and music. Countless people stayed at the Gran Hotel Montesol Ibiza, hoping to participate in the new, vibrant culture that now encompassed the island. The hotel began hosting celebrities who were central to this cultural revolution, including Orson Wells, Roman Polanski, and the members of the famous English rock bank, Pink Floyd. European royalty even stayed at the Gran Hotel Montesol Ibiza, including Princess Caroline of Monaco.
By the 1980s, Ibiza had become the premiere partying locale in the entire world. To this day, crowds flock to the Gran Hotel Montesol Ibiza to partake in the island's legendary festivities. Paying homage to its cultural contributions, the Spanish government recently designated the hotel a National Heritage Site of Cultural Interest. In 2016, Hilton renovated this amazing boutique hotel, including it as part of its esteemed Curio Collection.
Gran Hotel Montesol Ibiza, Curio Collection by Hilton, a member of Historic Hotels Worldwide since 2018, dates back to 1933.