Grand Hotel des Sablettes Plage, Curio Collection by Hilton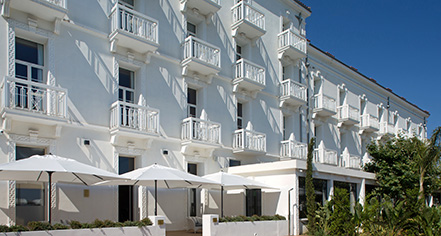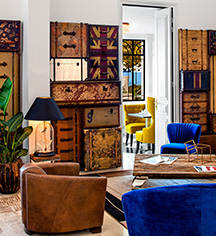 History
The deep and fascinating history of the Grand Hotel des Sablettes Plage begins when its architect, Marius Michel, was shipwrecked in the eastern Mediterranean. This event inspired him to write to the Emperor of France, Napolean III, about building lighthouses in the Ottoman Empire. After negotiations with the Ottomans, Michel was appointed head of the Ottoman Lighthouse Authority and built dozens of lighthouses over the next twenty years. The lighthouse fees, which were split between his company and the Ottoman government, made him very wealthy. His work also earned him various honors, including being made a Knight of the Legion of Honor, being made Count Michel de Pierredon by Pope Leo XIII, and given the title "Pacha of the Ottoman Empire," which is why he is better known under the name of Michel Pacha.
In 1872, Michel became the mayor of Sanary, a small town just outside of Toulon. He used the wealth obtained to rebuild the harbor and turn the town into a resort for French and foreign citizens. To realize his dream, he gradually acquired 80 hectares of land and developed the parks of Sablettes and Tamaris, before building the Grand Hotel in 1888. With the opening of the hotel, the success of the district was achieved.
During the Belle Époque, a peaceful and prosperous golden age of French art and entertainment, the Grand Hotel was a popular holiday resort for high-society parties and visitors looking to relax by the seaside. However, that all ended with the outbreak of the First World War in 1914, which ended the Belle Époque and shutdown the Grand Hotel. In 1920, the hotel resumed activity along with the rest of the area. However, less than 20 years later, the Second World War consumed France, and Sanary became a part of the front line. The nearby Casino des Sablettes was completely destroyed, but the Grand Hotel survived intact.
Despite a multitude of evenings, concerts, and other events taking place in the years after the war, the hotel closed to customers in 1967. For the next half-century, it would lie dormant.
In 2016, Stéphane Lelièvre and his family, passionate about hospitality and in love with their homeland, decided to begin a challenging project: to revive this monument, the Grand Hotel des Sablettes Plage, and return it back to its prestige held during the golden age of the Belle Époque. The renovation was done with loving care, to preserve the original spirit of the establishment and accentuate the neoclassical identity of the building. With its white façade echoing the azure blue of the sea, the Grand Hotel des Sablettes Plage is a veritable balcony on the Mediterranean that offers a journey back into history.
Grand Hotel des Sablettes Plage, Curio Collection by Hilton, a member of Historic Hotels Worldwide since 2018, dates back to 1888.