Grand Hotel Kempinski High Tatras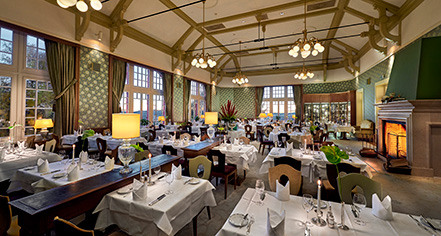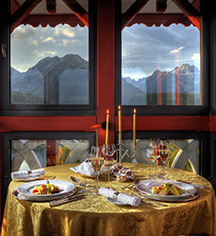 Dining
Grand Restaurant
The Grand Restaurant provides outstanding international cuisine and focuses on using only the finest products and local specialties, prepared by an experienced executive chef, Tomáš Tejbus. The chef prepares dishes that offer rustic interpretations of typical Slovak cuisine in modern form. The menu is prepared based on seasonal ingredients from local suppliers.
The Grand Restaurant (225 sq meter) is an all-day-dining restaurant. Up to 116 guests can savor the best of seasonal local produce and the finest wines from the celebrated cellar, which feature the largest collection of wines in High Tatras. The restaurant has a warm and relaxing atmosphere with a sumptuously furnished sitting room, where diners can relax in front of the glow of an open fire and take in the wonderful views beyond.
Hours
Breakfast: Monday to Sunday, 7:00 a.m. - 11:00 a.m.
Lunch: Monday to Sunday, 12:30 p.m. - 5:30 p.m.
Dinner: Monday to Sunday, 5:30 p.m. - 11:00 p.m.
Lobby Lounge & Bar
The Lobby Lounge, with a covered Smoking Lounge, is an oasis of tranquility and serenity with spectacular lake views. It is an ideal place for a light snack, afternoon tea, or coffee and offers a big selection of cakes, pastries, and chocolates. In the evening, guests can enjoy special cocktails or a drink from the collection of cognacs and whiskies. The casual setting is highlighted by the sound of a crackling fire in the background.
Hours: Monday to Sunday, 9:00 a.m. – 1:00 a.m.
Player's Lounge
The Player's Lounge is the perfect place for guests to engross themselves in a novel or a chess game while enjoying a glass of a favorite wine, whisky, or cognac.
Hours: Monday to Sunday, 9:00 a.m. – 1:00 a.m.
Zion Spa Bar
The Spa Bar is located in the Zion Spa Luxury area and offers healthy snacks and freshly squeezed juices and cocktails, perfect after a good workout in the fitness center.
Hours: Monday to Sunday, 8:00 a.m. – 10:00 p.m.
Romantic Tower Dinner
With senses sharpened by the fresh mountain air, guests will discover the finest private dining in the privacy of the panoramic View Tower, offering a full view over the Low and High Tatras.