Grand Hotel Tremezzo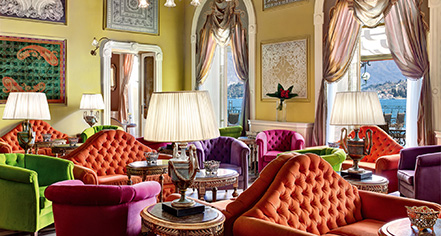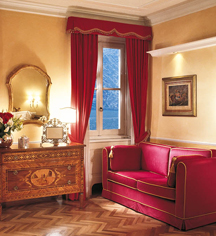 Meetings & Groups
Fully equipped with the latest technologies, Grand Hotel Tremezzo's meeting space and rooms can be customized and furnished to host groups of various sizes. The property's tranquil surroundings and views of Bellagio, the promontory of Balbianello, and Alps sets an inspiring tone for brainstorming and meetings.
Winter Garden
Available for use as a single large function room or divided into 2 or 3 smaller spaces by sliding walls, Winter Garden is a modern facility connected by a jasmine arcade and immersed in the flowers regionally exclusive to Lake Como. Offering natural sunlight, state-of-the-art equipment, and a beautiful veranda, this meeting space can accommodate up to 250 people.
Villa Passalacqua
Villa Passalacqua offers the most heavenly views of the Lake from its elevated position. Perching on the glamorous western shore amid the residences of the world's elite, the Villa is ideal for a glamorous getaway in total privacy, thanks to a secret underground entrance, a series of spacious halls for whiling away the hours day and night, plush interiors featuring decorated carved ceilings and priceless objets d'art, and a separate guest house, Villa Bellini.

The magic continues outdoors where extensive gardens divided into four terraces reach down to the waters, providing the most romantic outlooks over the Lake. With the calming sound of fountains in the background, the terraces are dedicated to olives, fruits and roses, while a larger expanse offers pristine lawns and a stone gazebo. The 200-year-old glasshouse is filled with exotic plants and the Swimming Terrace is nothing short of spectacular. Villa Passalacqua is a slice of heaven on the Lake.

Villa Sola Cabiati
Villa Sola Cabiati is an artistic masterpiece that harks back to the hedonism of the Belle Époque. With elaborate halls boasting stuccoes and frescoes by renowned artists of the day, and priceless collections of tapestries, paintings, majolica and Chinese vases, this historic residence will transport you back to a time when extravagance knew no bounds.
The spirit of indulgence extends to the flowering Italian garden with direct views over the waters, the park bursting with scented trees, and the beautiful outdoor pool, making Villa Sola Cabiati the ideal place for reliving the decadent history of the Lake.