Grand Hotel Villa Igiea Palermo - MGallery by Sofitel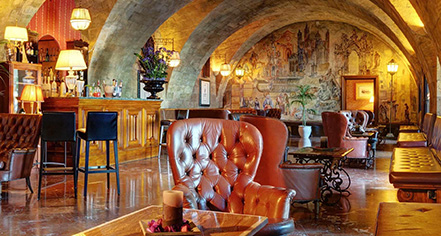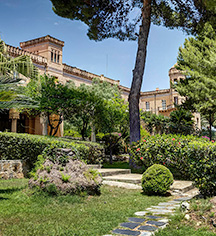 History
The Grand Hotel Villa Igiea Palermo - MGallery by Sofitel was originally designed and built as a private villa at the end of the 19th century by English admiral Cecil Domville. The building features neo-Gothic style design, an architectural style created in England during the late 1740s and inspired by the medieval Gothic style. After Domville passed away in 1904, the property was purchased by the Florio family, who would go on to restore the property and turn it into a luxury hotel.
After purchasing the property, the head of this entrepreneurial family, Ignazio Florio, named the villa after his daughter, Igiea. He decided to renovate the building to soften its severe neo-Gothic style and hired Italian Art Nouveau architect Ernesto Basile to complete the renovation in 1899. Basile was known for the fusion of ancient, medieval, and modern elements in his work. A fan of Art Nouveau, Basile was one of the first to adopt the style, and its influences can be clearly seen throughout the Villa Igiea. The structure itself is reminiscent of a castle, which overlooks the sea, complete with turrets and battlements. During the renovation, particular attention was given to the exotic indoor garden and the positioning of the pool, with the interior walls decorated in Art Nouveau style with female figures and florals. The villa's new wall frescoes were created by Ettore de Maria Bergler, an Italian painter, and the furniture was created especially for the hotel by Italian designer Vittorio Ducrot. One of the best examples of the Art Nouveau renovation is located in the hotel's Sala Basile, where the frescoes created by Bergler blend harmoniously with the architecture of Ducrot and the furniture designed by Basile.
Ignazio Florio wanted to re-create the Villa Igiea as a luxury hotel for the Belle Époque, a period of western history from 1871 to 1914 that was characterized by regional peace, economic prosperity, and flourishing arts, as well as technological, scientific, and cultural innovation. For a short time, the hotel was known as one of the favorite venues of the bourgeoisie and the Belle Époque aristocracy who often held dances at the hotel's Donna Franca Florio restaurant. Unfortunately, after the renovation was complete, Florio's dream would not last long, as after the start of the World War I in 1914, the luxury hotel was used as a hospital. Eventually the building was acquired by the Banco di Sicilia, a bank based in Sicily, and was restored to its status as a luxury hotel. It has hosted major celebrities over the years including popular soccer teams. In the 1990s the property was purchased by the Acqua Marcia Group, and then by Hilton from 2006-2011. In 2015, the hotel was acquired by AccorHotels and is now operating as the Grand Hotel Villa Igiea Palermo - MGallery by Sofitel.
Grand Hotel Villa Igiea Palermo - MGallery by Sofitel, a member of Historic Hotels Worldwide since 2018, dates back to 1890s.