Grandhotel Giessbach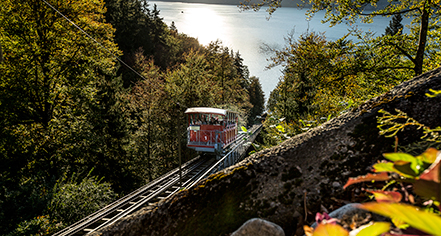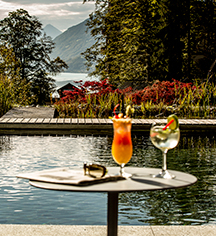 Activities & Events
Historic Giessbach Funicular Railway – The oldest in Europe
Originally built in 1879, the historic funicular railway was built by the Aarau machine works, with Niklaus Riggenbach (director) and Roman Abt (engineer). The first to include a passing loop in the middle of the route, this funicular is integral to the Grandhotel Giessbach history and is the oldest one in Europe still in operation.
Nature Park
Guests can discover and explore 220,000 sq m of gardens, greenery, and the Giessbach Park, where they can meander through paths to uncover magical nooks, the verdant canopy above, and the spray of the Giessbach Falls below.
Giessbach Waterfall
The Giessbach Falls thunder from a height of 400 meters, tumbling 14 steps past the fairytale castle in mighty white cascades. Different paths follow the waterfalls, which can also be looked at from above during a cable car ride. At night, the natural spectacle is dramatically highlighted with the newly installed illuminations. While the Giessbach is embedded in all sorts of colors in autumn, the spring's melting snow and rainy days can turn the creek into an impressive torrent.
Natural Pool
The huge advantage of an ecological swimming pool is that it functions entirely without chemicals such as chlorine. Many people complain of allergies and skin irritation in conventional swimming pools, all because of this substance. The water in the eco-pool at Grandhotel Giessbach is much softer and more pleasant to ensure a comfortable swim. A filtering system that circulates water through the meter-thick layers of granite in the regeneration zone ensures that the pool remains clean. The plants inhabiting the regeneration zone also absorb the nutrients contained in the water, thereby effectively reducing unwanted algae growth. Water tests conducted by the cantonal laboratory in other ecological swimming pools have consistently determined a flawless, germ-free water quality. Water leakage from the pool is now a thing of the past; regular supplementation of the pool water is no longer necessary. The pool is for resident guests only.
Events
In accordance with the old tradition the hotel is still the venue for concerts, theaters, and the legendary balls. Every year an exciting and varied program is worked out and delights its guests.
Other On-Site Facilities and Activities
Lookout terraces for lunch and aperitifs
E-Bike rental
Walking trails
Boat landing place
Permanent exhibition of Clara von Rappard and Charles Giron (Swiss Artists)