Grandhotel Giessbach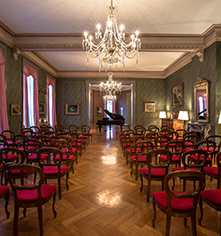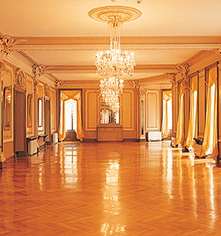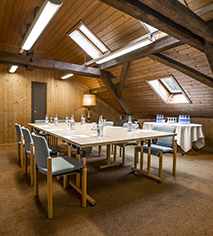 Meetings & Groups
Numerous conference rooms, elegant salons, and stuccoed ballrooms are available at Grandhotel Giessbach to host luxury events and productive meetings, intimate or grand. Unique architecture, natural light, and modern technical equipment complement the opulent Lake Brienz setting to ensure a memorable and successful occasion for every event.
Explore the Meeting and Event Venues at Grandhotel Giessbach
Belle Epoque Hall - An elegant hall boasting stucco appointments, beautiful mirrors, high ceiling with chandeliers, and Louis-Philippe-chairs with Bordeaux-red upholstery. An opulent setting featuring a private terrace facing the beautiful Giessbach Falls, the Belle Epoque Hall is the choice venue for impressive, festive occasions.
Salon Davinet - An opulent salon with bay windows, crystal chandeliers, and a private terrace opening up to views of Lake Brienz, this venue features a permanent exhibit from the Bern Museum of Art.
Seeblick - Boasting modern furnishings, pleasant light hues, and large windows with a unique view of Lake Brienz, this comfortable setting is equipped with a built-in screen and plenty of space for all kinds of seating arrangements.
Rothorn - A charming seminar room with a pitched roof, natural lighting, and large lake-facing windows, this venue is ideal for intimate boardrooms or private meetings.
Ballenberg – A cozy seminar room, this space offers a pitched roof and natural sunlight, perfect for confidential discussions or a workshop room.
Salon Giron – Ideal for small receptions or inspiring meetings, this beautiful salon is reminiscent of the great Belle Epoque with its thoughtfully-appointed interior. The room is furnished with a billiards and chess table.
Restaurants – The various restaurants at Grandhotel Giessbach offer an elegant setting for private dining and high-level meetings.
Capacity Chart
Area
(sq m)
Height
(m)
Belle Epoque
241
4.6
90
250
50
56
Salon Davinet
93
4.6
28
60
20
28
Seeblick
110
2.4
40
60
24
32
Rothorn
100
2.4
20
40
16
20
Ballenberg
35
3.1
5
12
5
10
Salon Giron
42
4.6
8
30
8
12