Grandhotel Giessbach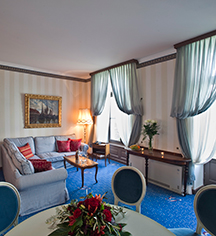 Suites
Opening a door to a suite at Grandhotel Giessbach is like walking into a personal kingdom. Appointed with Belle Epoque restored antiques and furnishings, these Swiss suites reflect the vibrant history of the hotel, each offering a unique take on elegance.
Explore the elegant Suites of Grandhotel Giessbach
Comprised of a charming bedroom with double bed, bathroom with tub and shower, and spacious living room, the Giessbach Suite boasts an unforgettable panoramic view of Lake Brienz and imposing mountains from a 25 sq m private terrace. Situated on the first floor, this romantic suite ensures a luxurious experience for every guest.
The Kehrli Suite is the namesake of Johann Kehrli, who single-handedly created a footpath from the lake shore to the second-lowest cascade, paving the way for what eventually became the historic Grandhotel Giessbach. Situated in the hotel's tower, this spacious suite is appointed with a beautiful living room, bedroom, and a spacious bathroom, ideal for two guests. The Kehrli Suite also features two private balconies boasting spectacular views of Lake Brienz and Giessbach Falls.
Celebrating French architect Horace Edouard Davinet, who designed the historic Grandhotel Giessbach in 1873, the Davinet Suite is an elegant setting furnished with a bedroom with a king size bed, spacious living room, and large bathroom with bathtub. Located on the first floor of the tower, this historic Swiss suite overlooks Lake Brienz and Giessbach Falls from a private balcony.
Paying homage to artist Clara von Rappard, whose father, Conrad, built the original Giessbach hotel, the Rappard Suite is a spacious respite, boasting a comfortable bedroom furnished with a king size bed, charming living room, and large bathroom with tub. Situated on the second floor of the tower, the suite affords brilliant views of Lake Brienz and the Giessbach Falls.
Clara von Rappard lived in nearby Matten at Villa Rappard by the Kleinen Rugen mountains where she found her inspiration. Many of her finest pieces adorn the walls of Grandhotel Giessbach.
The F. Weber Suite is named after renowned Swiss environmentalist Franz Weber, who founded the Giessbach for the Swiss People Foundation, a fund-raising campaign committed to the preservation of the Giessbach property. In November of 1983, Weber's campaign was a success and the preservation of Grandhotel Giessbach has remained a priority.
Comprised of a spacious living room, one and a half bathrooms, and bedroom furnished with a double bed, the F. Weber Suite is situated on the second floor offering beautiful views of Lake Brienz.
Suite Amenities
Complimentary access to the maxi-bar (3rd floor)
Complimentary high-speed wireless Internet access
Complimentary use of Giessbach funicular
Down duvets and pillows
Flat Screen Satellite Television
Fluffy bath robe and slippers
Fruit platter
Giessbach mountain water
Jobin music box
Laundry and cleaning service (liable to cost)
Multilingual reception staff
Room service twice a day
Safe
Synthetic hypoallergenic pillows
Telephone
Vegan hair care by Tara Smith
Welcome sweets