Gregans Castle Hotel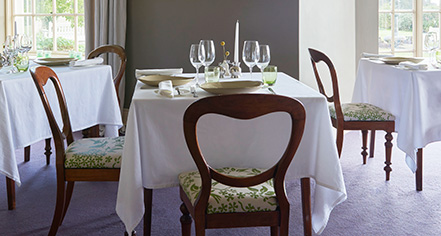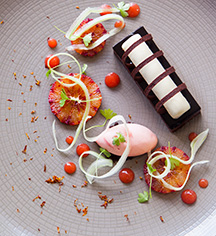 Dining
The Dining Room
Heralded by Food and Wine magazine as "Best Restaurant for Romance 2017" and awarded 3 Rosettes by the AA for culinary excellence every year since 2011, Gregans Castle Hotel's The Dining Room enjoys endless accolades. New Chef Robbie McCauley's inventive cuisine continues to have guests returning for repeat visits. The extensive dinner menu is filled with fresh local foods, organic Burren lamb and beef specialties, and locally caught seafood from the Atlantic Ocean. An expansive wine list from every continent helps complement the gourmet cuisine. On many summer evenings, the view from the windows is of a most unusual and beautiful light show, caused by the rays of the setting sun travelling across Galway Bay and striking the grey limestone mountains.
The Drawing Room
The elegant Drawing Room is reserved for hotel residents. Here, a wide selection of reading material and board games can be found. After dinner, guests enjoy coffee and petit fours accompanied by a rare old Irish whiskey beside the roaring turf fire.
The Corkscrew Bar
The cozy Corkscrew Bar is open all day for drinks and guests can sit back and relax in comfortable, luxurious surroundings. Our popular light lunch menu is also served in the bar, and it is the perfect place for afternoon tea after a day's sightseeing or hiking.