Hacienda de los Santos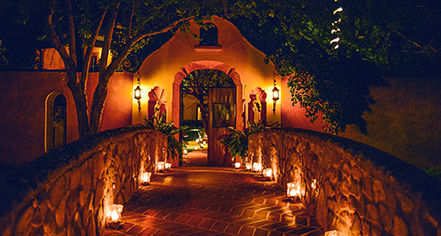 History
Located within the city of Alamos, Hacienda de los Santos is featured within a setting that offers travelers a rich and unparalleled heritage. A historical, Colonial-era town, Alamos has seen its share of Spanish conquistadors, dignitaries, and more throughout its reign. 350 years ago, the Spaniards crafted the city to become reminiscent of Spain's Adalusia, and today the town boasts a wealth of attractions and top destinations for travelers to enjoy, all while retaining its initial charm. With just 15,000 inhabitants, the town has maintained a delicate authenticity, established by its emphasis on local traditions.

Hacienda de los Santos utilizes this vast history to its advantage, allowing it to be a one-of-a-kind respite for its guests, located within the most charming of communities. The hotel's story is entwined with that of its founding family. The owners, Jim and Nancy Swickard, are avid travelers, and have visited Mexico frequently over a span of 40 years. Upon their visit to Alamos in 1989, they decided upon the site for the Hacienda's creation. Over 24 years of renovations occurred throughout the 300-year-old Hacienda's time in existence, turning it into the hotel that visitors know and love today. Alongside the Alcantar family, the owners have crafted Hacienda de los Santos as a unique space for travelers to delight in during their stay, enriched with careful details amid the comforts of home.
Hacienda de los Santos, a member of Historic Hotels Worldwide since 2015, dates back to the 1600s.