Hacienda Jurica by Brisas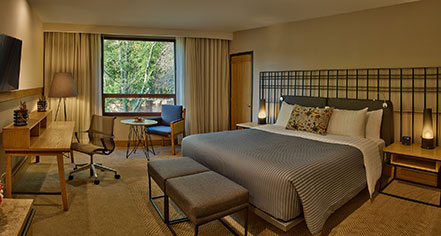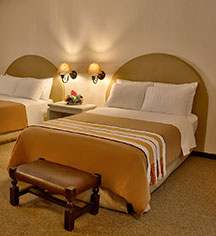 Accommodations
Hacienda Jurica by Brisas offers 239 attractive luxury guestrooms, characterized by its distinguished and beautiful country-style environment. Guests can choose from a Presidential Suite, Master Suite, Junior Suite, or an Executive Room, each designed to reflect the characteristic Mexican colonial architecture of the hacienda. Using materials such as oak wood, textiles, and carpets in neutral tones, the accommodations provide an environment of warmth with a modern feel, contrasted with the finished metals and ironworks.
Guestroom and suite amenities:
WiFi
Cable television
Minibar
Coffee maker
Air-conditioning and heating
Iron and board
Clock radio
In-room safe
Non-smoking rooms

Brisas Business Club
The Brisas Business Club is specially designed to cater to the business traveler and includes access to the Executive Lounge. The lounge area can accommodate up to 37 people and offers enough space for breakfast service and snacks. In the evenings, hors d'oeuvres and house wine is served for guests of the Brisas Business Club. This cozy space is framed by the striking views of the gardens of the hacienda, and the brightly colored walls contrast with the black stone floors and light wood.
Brisas Business Club services and amenities:
Executive lounge service from Monday through Sunday, from 6:30 a.m. until 10:30 p.m.
Private check-in and check-out located on the executive floor
Continental breakfast (including cold cuts, cheeses, cereal, and yogurt) is served Monday through Friday, from 7:00 a.m. until 11:00 a.m..
Hors d'oeuvres and two drinks (choose from white wine, red wine, beer, or soft drink) is served Monday through Sunday, from 6:00 p.m. until 8:00 p.m.
National and International bar service (at an additional cost) is served from Monday through Sunday, from 1:00 p.m. to 10:30 p.m.
High speed Internet access included in the rate
Welcome cocktail
Newspapers, magazines, and books available in the lounge area