Hacienda Lomajim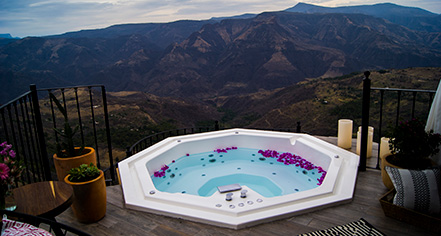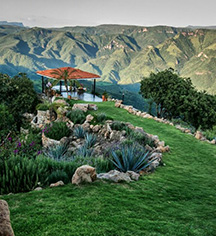 Spa
Get pampered with a massage, either in room or at the spa center, at the Hacidena Lomajim. Reservation is required for spa services, 24 hours in advance. The minimum age for a massage or body treatment age is 18 years old; and 16 years old to receive a facial.

Jacuzzi Volado
The Jacuzzi Volado, an open-air Jacuzzi perched on the side of a cliff, is simply breathtaking, complete with table and chairs for al fresco private dining and lounging.
Relaxing Massage
This classic massage is a relaxing and invigorating body treatment that uses long and intense movements to soothe sore muscles and improve circulation.
Relieving Massage
This massage is used to lower voltage levels, resulting from stress, repetitive motion, and awkward postures in daily life that in the long term, can cause general body aches and malaise.
Lymphatic Drainage
This is a great way to eliminate accumulated toxins in the body. The treatment works on cleaning the body from conditions related to fluid retention, such as poor circulation, tired legs, and cellulite, among others. This complementary treatment is ideal for bonding a healthy diet and regular exercise.
Prenatal Massage
This relaxing and enveloping massage, especially after the fourth month, improves blood circulation, soothes the skin and muscles, cuts and relaxes the leg and back pain, and improves the immune and respiratory system.
Reiki
This is a natural therapy that helps transmit power to heal emotional, mental, and physical systems.
Hot Stone Massage
This exclusive body treatment method applies hot stones to relieve stiff and sore muscles. Hot stone therapy relieves the most intense muscle pain and is a balm for the soul.
Relax Rear Back Area
This manual technique provides a pleasant physical and mental state and also relieves muscle aches.
Facial Hydration
Its application, along with steam and extraction, can restore the skin's balance and provide a healthy glow. This treatment is especially beneficial to oily and impure skin, allowing hyperhydration and remineralization.
Combined Treatments
The combination of various techniques, including hot stones, relaxing aromatic oils, and gentle movements and stretching, will leave the body totally relaxed and refreshed. This treatment is very effective to relieve tension and pain.
Reflexology in Hands and Feet
This technique aims to produce pressure at various points of the hands and feet, that are directly connected with the organs, to produce a soothing effect on various diseases.
Spa Day
Start the day with a healthy snack on the terrace of the restaurant. Then continue with a relaxing massage. Afterward, take a dip in the pool or relieve stress between the bubbles of the Jacuzzi.