Hacienda Santa Rosa, A Luxury Collection Hotel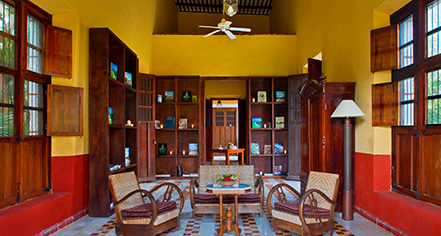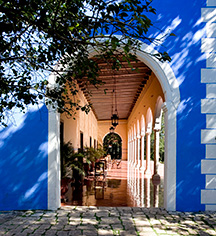 History
Hacienda Santa Rosa de Lima is located in the northeastern part of the Yucatán Peninsula and part of the municipality of Maxcanú, translated from Mayan to "the monkey Canul". During the pre-Columbian period, this region belonged to the tribe named "Ah-Canul."
The sisal Haciendas of the Yucatán are organized, like most Mexican estates of the late 19th and early 20th centuries, in an axis from north to south. Santa Rosa is a magnificent example, with its ample public grounds in the front, followed by the typical sisal patio, and behind the main building another square. Areas where sisal production took place can be viewed today, such as the vegetable gardens, the corrals, and the garden with private pool behind the chimney, the locale where sisal fibers were dried.
A century ago, in 1899, Santa Rosa was acquired by the García Fajardo brothers, a family of farmers who established it as one of the best plantations in the region. Their initials can be found at the highest place in the Hacienda, the chimney, reading H.G.F. 1901.
Aside from being a successful manufacturer of sisal, the Santa Rosa was also a country estate for family getaways. A direct descendant left a written testimony of his amazing summer stays during the two months of the hot summer in the Yucatán.
Santa Rosa's diverse architecture combines colonial, classic, and a hint of modern elements that distinguishes it from other haciendas in the area. This balanced fusion results in regional architecture with modern lines, while preserving and enhancing its historical aspects. For decades, this unique hacienda was abandoned. After 97 years, it was attentively salvaged and repurposed into a modern boutique hotel.
Present-day Santa Rosa offers all the facilities, convenience, and comforts for a perfect Yucatán getaway. Couples can get married in the old chapel located on the property. Guests can take a dip in the pool, converted from the original water tank used in the production of sisal. The original fruit plantation is now the botanical garden, with over 200 plant species.

Hacienda Santa Rosa, a member of Historic Hotels Worldwide since 2016, dates back to 1897.