Hacienda Temozon, A Luxury Collection Hotel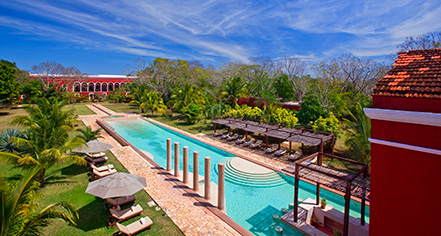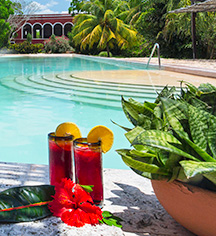 Activities & Events
Activities offered, advance booking required:
Cochinita Pibil Cooking Demonstration
A visit to the Yucatan wouldn't be complete without sampling its traditional culinary delights. A dish representative of this unique cuisine is the cochinita pibil, traditional slow-roasted pork flavored in achiote and sour orange. The pork is covered by banana leaves and cooked in an underground oven, giving it that special flavor. Guests at Temozon can relish the "cochinita pibil cooking show," where the chef demonstrates how to make the dish and guests can enjoy the cochinita pibil with marinated onions in handmade tortillas. Undoubtedly, the cochinita pibil is not only a delight for the palate, but also a symbol of the culture and heritage of this region.
Chi-Kung, Qi-Gong, Tai Chi
Chi-Kung, Qi-Gong, Tai Chi
Inside the Cenote Xaca Mucuy, guests can embody spiritual teaching and experience the subtle forces of the site, guided by The Hacienda's "chamán", a transpersonal therapeutic and Temazcal expert, certified in Chi-kung by The Red Lotus School of Movement. He has dedicated close to 30 years to studying "shamanism", specializing in meditation (Tantric Buddhism, Taoism, Kabalah of the new and old testament, and Shavism and Kashimira).
Cenote Xaca Mucuy
Located within the grounds of Hacienda Temozon, A Luxury Collection Hotel, Xaca Mucuy is an almost circular, open cenote with a diameter of 20 meters. Visitors can immerse in the cool water, its depth ranging from two to almost 35 meters. The experience begins with a truk tour, pulled by Tabaco the donkey, from the hacienda to the cenote.
Bird-Watching
Specially trained gardeners offer a bird-watching tour, complemented by a book of all the local birds.
Other activities available:
Spa treatments
Outdoor pool
Lighted outdoor tennis court
Bicycles
Tour to the cenote on property
Private tours guided by archaeologists, historians, and field experts
Living and dining hacienda style: cooking classes with celebrated chefs
Cenote Xocempich: swimming and dining in total privacy
Diving in Mayan sacred cenotes
Customized travel tours and experiences
Guest services and amenities:
24-hour front desk
Laundry service
Babysitter service (upon reservation)
Gift shop with handmade items by local artisans
Complimentary parking facilities
Airport pick-up (upon reservation)
Shuttle service to downtown and surrounding areas (upon reservation)
Car rental service (upon reservation)
Heliport