Hacienda Xcanatún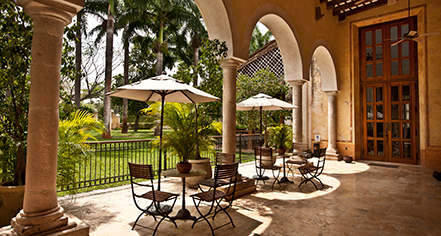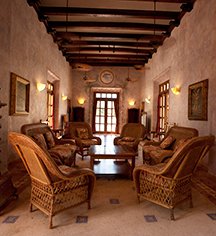 History
Hacienda Xcanatún's roots date back to the mid 18th century, when its original structure was located on the grounds of a settlement. This expansive agricultural center found its original use housing horses and mules that pulled transportation vehicles known as bolan koche, resembling wagons. This was found to be a popular enterprise, as this was the quintessential method for trading within the Yucatan at this time.

As the years passed by, a man named Don Manuel Zapata y Bolio supervised the productiion of fibers to the remote town of Sisal within the original hacienda of Xcanatún. Instilling innovative ideas within his family lineage, his son, Manuel Zapata Martinez, decided to construct a port to export the produced natural fibers more efficiently. Thus, Port of Progreso was created, which in 1881 allowed for the first passage of trains through Xcanatún, allowing the fibers to be produced and exported effortlessly from the hacienda itself.

The region soon entered the Agrarian Reform, causing the owners to downsize the property to 18 acres. The demand for sisal fibers dropped dramatically, and thus the Machinery House, Main House, Chapel, citrus orchards, and livestock pens were converted and sold away. Soon the property fell into a desolate state, being utilized intermittently as a vacation house for the owners to enjoy. The years passed, and the property's identity continued to decline.

In 1988, the property was ravaged after Hurricane Gilbert made its way throughout Xcanatún, taking out the original gardens, coconut grove, and structures, and leaving ruin in its wake. Five years later, Jorge Ruz Buenfil, the son of a notable archaeologist, decidedly crafted a plan to convert the ruins into the hotel as it is known today, Hacienda Xcanatún. Ruz Buenfil worked tirelessly to maintain the original identity of the property through careful reconstruction. Utilizing locally-sourced materials including hardwood, wrought iron, clay, marble, and coral stone, Hacienda Xcanatún was restored to new glory.

The hotel's gardens were also re-established, with palm trees, fruit trees, and other species of unique flora soon abounding. A swimming pool was constructed from a water reservoir, and meandering pathways were constructed throughout the property. When the final details were completed, the hotel became a modern travel destination boasting the sensibilities of the past. Since its advent, Hacienda Xcanatún has welcomed a variety of guests, from dignitaries, to celebrities, and more, each looking for a unique travel experience within the vast Yucatan region.

Hacienda Xcanatún, a member of Historic Hotels Worldwide since 2015, dates back to 1789.