Hilton Cincinnati Netherland Plaza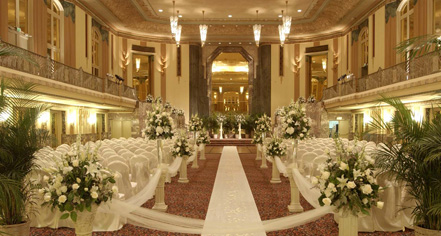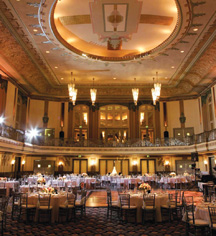 Weddings
When an entire hotel is a work of art, how could an event be anything less? The Hilton Cincinnati Netherland Plaza opened in 1931 and was built like no other of its time and with great attention to detail. As a National Historic Landmark and charter member of Historic Hotels of America, the hotel has maintained the grandeur and ambiance to create an unforgettable location for a wedding. With modern amenities and fully-renovated guestrooms, the hotel is a wonderful combination of elegance and style.
Dreams made into reality are a tradition at the Netherland Plaza. From start to finish, guests will enjoy outstanding personal service and special attention to every detail that makes an event unique and amazing; a celebration of pure enchantment in a setting that is truly one of a kind. The hotel creates a sense of timeless elegance and romance and the award-winning culinary team epitomizes artistry in every aspect of the menu and presentation.
The Catering Team has the knowledge and expertise to translate dreams into reality. Every aspect of the wedding celebration, from menu selection and guest accommodations to professional recommendations, will be handled with expert craftsmanship that will make the evening truly unique.
The team at Hilton Cincinnati Netherland Plaza look forward to making the special day a truly memorable experience.
Enjoy love and happiness always.