Hilton Hawaiian Village® Waikiki Beach Resort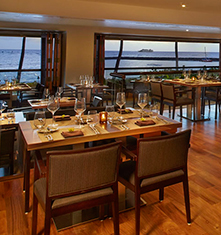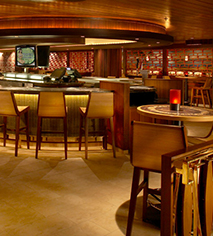 Dining
Discover the diverse selection of 20 restaurants and bars offered at this historic Hawaii resort. Utilizing fresh island ingredients from local farms, the chefs serve inspired, creative cuisine and catering menus. There is a dining experience for every taste from premium steaks and seafood and international fare to grab-and-go sandwiches, salads, and pizza. Enjoy the eclectic tastes of paradise.
Explore the Dining Experiences at Hilton Hawaiian Village® Waikiki Beach Resort
Bali Steak & Seafood - Located in the Rainbow Tower, Bali Steak & Seafood offers fine dining in a relaxed setting, with succulent steaks and seafood an open-air setting just steps from Waikiki Beach and the rolling ocean.
Rainbow Lanai - Enjoy a bountiful breakfast buffet daily at Rainbow Lanai; enjoy sparking ocean views and a casual, family-friendly setting.
Tropics Bar & Grill - The perfect place to experience authentic Hawaiian beach cuisine for breakfast, lunch, and dinner.
Benihana - Enjoy the services of a personal chef, choreographed entertainment, ocean-fresh shrimp and lobster tails, juicy USDA prime steaks, tender chicken and fresh vegetables on a hibachi table.
CJ'S New York Style Delicatessen - Stop by at CJ's New York Style Deli for breakfast, lunch or dinner with tasty grilled sandwiches, burgers, fresh salads, soups, and desserts.
Fresco Italian Restaurant - Enjoy Italian fusion-style cuisine prepared with fresh ingredients and Island flavors.
Fresh Connection - Order breakfast, lunch, or dinner and it will be ready for pick up at Fresh Connection. Take out or have your meal delivered directly to your room.
Hatsuhana - Enjoy Hatsuhana's assortment of unique Japanese delicacies created with seasonal ingredients by the master chefs.
Pronto Pickle & Pronto Pickle II - Located in Ali'i Tower next to the Super Pool and at Paradise Pool, these grab-and-go eateries offers sandwiches, salads, snacks, drinks, and more. The perfect place to grab a quick bite while hanging out at the pool or beach.
Round Table Pizza - Round Table pizza offers traditional and gourmet pizzas and all your favorite live sports via satellite television.
Bars - Unwind with friends and family in one of four fabulous lounges. Sip a cocktail at Hau Tree Bar - the perfect spot to watch the sunset. Listen to live entertainment at the Tapa Bar.
Grab & Go Snacks - Grab a refreshing beach-side juice from Lanikai Juice Hawaii or DQ/Orange Julius at the Beach. Enjoy gourmet ice cream made from fresh local ingredients at Lappert's Hawaii, or kick-start the day with a coffee from the on-site Starbucks.
Waikiki Starlight Luau - Immerse in the unique island experience of a Hawaiian Luau, which comprises entertainment, games, and an unforgettable island feast. Savor exotic Hawaiian flavors from locally-sourced island ingredients, in dishes including Kalua Pig, Island Fish, Huli Huli Chicken, Sweet Potatoes, and Hawaiian Fried Rice.