Hilton Milwaukee City Center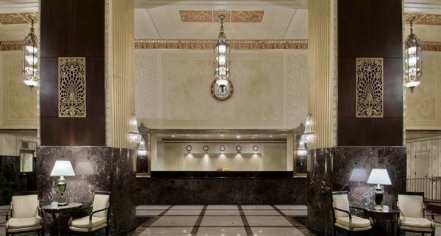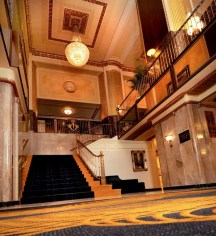 History
The Hilton Milwaukee City Center is a nearly 90-year-old symbol of elegance and illustrious hospitality. Built in a city famous for its brewing companies, this historic hotel opened in 1928 during the prohibition and the era of Al Capone's residence in Milwaukee, playing an esteemed role in Milwaukee's history.
The building was originally purchased for $7 million in 1927 by Walter Schroeder. When finished in 1928, it was Wisconsin's tallest hotel at that time, standing at 265 feet, and featuring 811 guestrooms. Designed by Holabird and Roche, the hotel instantly became a grand example of the distinctive Art Deco design. In 1972 the hotel was sold to Ben and Steve Marcus, who renamed the building the Marc Plaza. At this time, the hotel underwent an extensive $8 million renovation, followed by another renovation in 1994, ensuring that the result would be a historic hotel restored to its original 1920s grandeur.
In 1995, Hilton Hotels acquired the famed property and renamed it the Hilton Milwaukee City Center. Two restaurants, a pub, 250 additional guestrooms, an indoor waterpark, an attached parking garage, and a skywalk to the Frontier Airlines Center were also added at this time.
Guests are now welcomed to the Hilton Milwaukee City Center with distinctive Art Deco design, elaborate furnishings, and a perfect blend of 1920s grandeur and today's modern conveniences. Exuding gracious style and a relaxed ambiance, this legendary historic hotel in Milwaukee features luxuriously appointed guestrooms, plush amenities, and two regal ballrooms.
Hilton Milwaukee City Center, a member of Historic Hotels Worldwide since 2011, dates back to 1928.