Hilton Molino Stucky Venice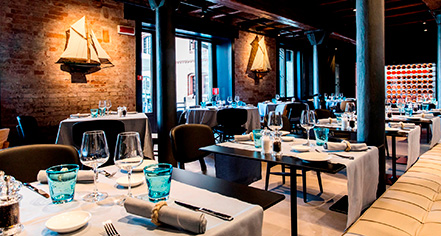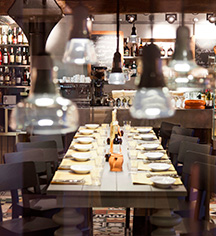 Dining
Over the past few years, the city of Venice has considered the Hilton Molino Stucky to be a landmark for delicious, local cuisine. The menus crafted by the hotel offer refined, yet traditional, Mediterranean dishes that epitomize both Venetian and Italian culture. With a wealth of dining options available, the Hilton Molino Stucky is terrific for guests who are eager to try the local tastes of the region.
Aromi
Recently renovated in 2014, the Aromi features a uniquely elegant design, casting a warm and cozy atmosphere for its clientele. A staple in Venice, the restaurant offers the best Italian cuisine.
Bacaromi
The Hilton Molino Stucky launched a new restaurant in 2013, called the Bacaromi. The venue serves traditional Venetian fare within a vintage dining room adjacent to the lively Giudecca Canal.
Rialto Lobby Bar & Lounge
The Rialto Lobby Bar and Lounge has emerged as a popular destination for cocktails, coffee, or snacks in Venice. Guests have quite the selection of refreshments and cuisine from which to choose, as the menu provides a variety of Italian and international flavors. The establishment is open from April to October, 8:30 a.m. to noon, as well as from November to March, 10:00 a.m. to noon.
Skyline Rooftop Bar
The Skyline Rooftop Bar enamors guests with its splendid views of Venice and the surrounding lagoon. The venue is wonderful for private cocktail receptions, or reclusive romantic dates.
Nutella Corner and Terrace
Guests may also indulge their senses at the Nutella Corner and Terrace, which serves delightful pastries and deserts. Guests can find other kinds of rare culinary treats at the Nutella, including rare Italian coffees and teas.