Hilton Molino Stucky Venice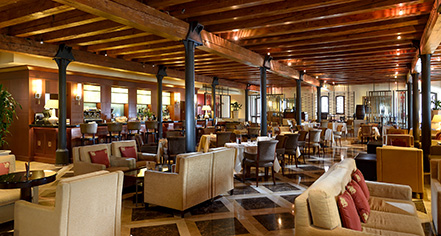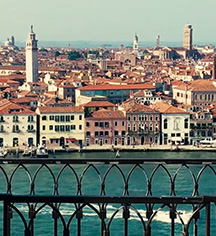 History
Before the Hilton Molino Stucky Venice became a hotel, it was once one of Europe's largest mills. In the 1880s, the Swiss-Venetian businessman Giovanny Stucky decided to construct an industrial flour mill in Venice's Giudecca Island neighborhood. Already a successful manufacturer, Stucky intended for his prospective flour mill to be the crown jewel in his commercial empire. With the help of German architect Ernst Wullekopf, Stucky began building the mill at the site of two former convents on Giudecca Island: St. Biago and Cataldo.
The construction project took several years to complete, finally concluding in 1895. When the dust settled, the mill encompassed a complex of thirteen distinct buildings, all of which featured unique Neo-Gothic architecture. For the next several years, the mill produced some of the greatest yields of flour in all of Europe. At its peak, the mill employed 1,500 people on a 24-hour work schedule. Stucky quickly became one of the wealthiest people in Venice as a result.
But that prosperity was not to last for long. Labor strife within the mill happened regularly at the start of the twentieth century, with strikes becoming a common occurrence. This strained relationship even cost Stucky his life, as a disgruntled worker assassinated him in 1910. War and other calamities wrought havoc on the business in the years following Stucky's death, further harming the mill's financial stability. The flour mill was a shell of its former self by the mid-twentieth century, eventually closing its doors in 1955.
For many decades, the mill remained vacant. Working closely with the Ministry of Cultural Heritage, the Societa Dell'Acqua Pia Antica Marcia SpA purchased the complex in 1994, with the intent on transforming the location into a hotel. A massive restoration project began in earnest a few years later. During the renovation, Hilton Hotels partnered with Societa Dell'Acqua Pia Antica Marcia SpA in the mid-2000s, making the site a Hilton institution. When the renovations concluded in 2007, Hilton launched the site as the Hilton Molino Stucky Venice hotel.
Hilton Molino Stucky Venice, a member of Historic Hotels Worldwide since 2018, dates back to 1884