Hilton Orrington/Evanston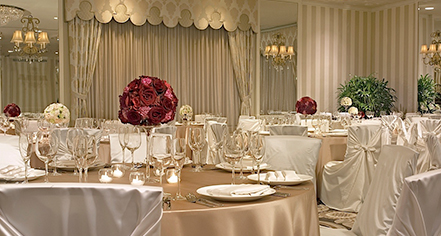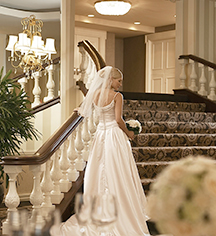 Weddings
All eyes will be on you when you walk down the beautiful and historic Grand Staircase entering into the ballroom. You will forever remember this day shared with family, friends, and loved ones. Let Hilton Orrington/Evanston be part of that memory.
One of the finest hotels on Chicago's North Shore, the Hilton Orrington/Evanston first opened its doors in 1928 when people came from miles to experience the luxury it affords. Be a part of history, as the Hilton Orrington/Evanston now has the pleasure of hosting third generation weddings.
The historical Grand Ballroom is the perfect location to celebrate this very special day. With over 70 years of experience, fine cuisine, and a downtown Evanston location just two blocks from Lake Michigan and across the street from Northwestern University, you will have the perfect backdrop settings for your photos.
Couples can choose from a variety of venues for their very special day:
The stunning Grand Orrington Ballroom, complete with a sweeping grand staircase, Baccarat crystal chandeliers, and floor-to-ceiling windows.
The classic historical Heritage Ballroom with 1920's crown molding, plaster in-lays, Baccarat crystal chandeliers, and soaring ceilings.
Individual event rooms on the second floor featuring floor-to-ceiling windows, custom designed lighting, and rich, warm tones, perfect for luncheons, rehearsal dinners, and day-after-wedding brunches.
For the smaller intimate wedding, the Promenade 9th floor with modern floor-to-ceiling windows featuring panoramic views of Lake Michigan and downtown Evanston.
Hilton Orrington/Evanston features a variety of wedding packages that let couples enjoy a wedding with distinctive style, grace, lavish taste, and a unique blend of historical and contemporary fashion. Don't forget that the guestrooms and suites are the perfect choice for a wedding night honeymoon.