Hilton Santa Fe Historic Plaza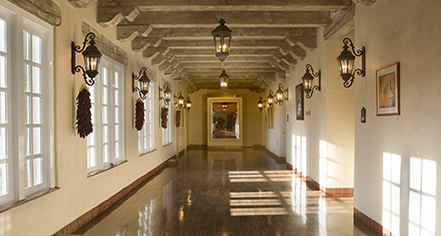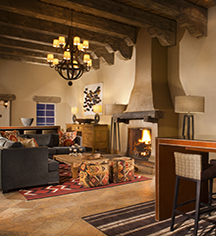 History
Built in 1625, the Hilton Santa Fe Historic Plaza was originally the hacienda of New Mexico's Ortiz Family, one of the most prominent families of the city. Capturing the unique, cultural heritage of the romantic Southwest, the 300-year-old landmark was expanded and restored to preserve its architectural integrity and distinct history.
Beginning with Padre Ramon Ortiz centuries ago, this historic estate has a long tradition of warm hospitality. A native of Mexico City and a descendant of prominent Spanish Colonials, Padre Ramon Ortiz was a parish priest whose humanitarian work included providing education and a home to young men and family members in need. During the Mexican-American conflict of the 1840's in the village of Santa Fe, Padre Ortiz gave food and shelter to both Mexican soldiers and their captives on their journey to Mexico City.
While Ortiz made lasting friendships with the Americans during the conflict, when war was declared with Mexico in 1846, the patriotic Ortiz instigated an armed resistance at the battle of Brazitos. He was defeated, taken prisoner, and marched to Chihuahua, where he watched the city fall to US troops. Padre Ortiz was released after administering to the wounded and dead on the battlefield.
After the war, Padre Ortiz was elected to Congress at Mexico City, where he voted against the peace Treaty of Guadalupe Hidalgo in 1848 to protect his country. Mexico lost half of its national territory as a result of the treaty, including Ramón's birthplace of Santa Fe. Ortiz was appointed by the State Government of Chihuahua to head the Commission to repatriate Mexican citizens who wished to retain national citizenship. While 3,000 Mexicans crossed the new border to settle in Northern Chihuahua, many could not relocate due to obstacles placed on them by American officials. Disappointed, the patriotic priest retired from civil life and returned to pastoral work in El Paso where he lived until his death.
After generations of civil debate and business deals, the Ortiz hacienda finally passed out of the family in the late 1800's. Padre Ramon Ortiz is considered one of the most influential humanitarians, politicians, and peacemakers in the history of Santa Fe, New Mexico.
One of the oldest buildings in Santa Fe, just blocks from the historic plaza, the hotel retains many architectural elements and artifacts from the original Pueblo. The luxury casitas are built within the adobe walls of the preserved 17th century coach house of the estate, with planked ceilings, exposed brick, Colonial furnishings, and a traditional kiva fireplace.
Today, guests can embrace the 300-year history and romance of this historic hotel and relive the story of the origins of Santa Fe.
Hilton Santa Fe Historic Plaza, a member of Historic Hotels Worldwide since 2014, dates back to 1625.