Historic Inns of Annapolis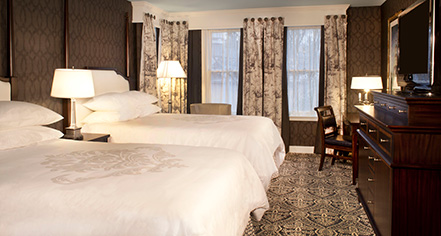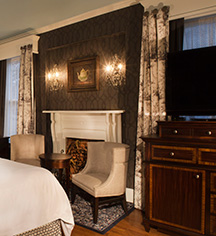 Accommodations
The Historic Inns of Annapolis feature 124 guestrooms, all handsomely restored and tastefully furnished in original and reproduction antiques. All guestrooms offer modern amenities such as cable television, hair dryers, dataports, telephones, irons and boards, complimentary WiFi, and private baths. Suites are also available. Each of the three Inns offers its own unique lodgings.

All three historic Inns are within walking distance of shops, restaurants, entertainment, and the heart of Annapolis' historic district. Valet parking is available for all overnight guests.

Maryland Inn: Many of the Maryland Inn's 44 guestrooms date to the Revolutionary Era, while the wooden porches are vintage Victorian. Guests can relax in the Drummer's Lot Pub or enjoy a latte in Starbucks.

Governor Calvert House: Two Maryland governors lived in this historic home, and today it is a tastefully restored Colonial and Victorian residence with a contemporary conference center. It faces Colonial Gardens on one side, the State House on the other, and has 51 guest rooms. A lovely atrium with a garden terrace is part of the House's modern conference center, a unique site for wedding receptions as well as business meetings.

The Robert Johnson House: The Robert Johnson House overlooks the Governor's mansion and State House and is actually three houses cleverly integrated and artfully restored and furnished. Since a careful and elegant restoration, the 29 guestrooms have been furnished with 19th century antiques. The paint, upholsteries and draperies have been chosen to make the most of each room's location and exposure to the sunlight.

Guestroom Types:

Double Double Room: This deluxe room features two double beds, antiques, a sitting area, and work desk.
King Room: The king rooms feature a king-sized bed, antiques, a work desk, and sitting area with workspace.
Historic Queens: these rooms have four-poster historic queen beds with a sitting area, a work desk, and antique furnishings.
Queen Room: The queen rooms feature a sitting area with workspace, and a work desk.