Historic Inns of Annapolis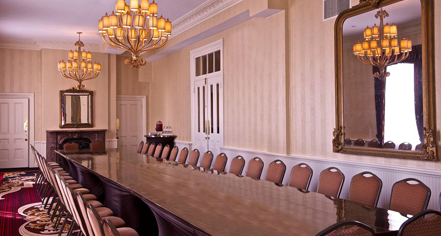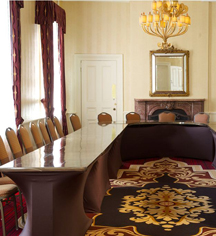 Meetings & Groups
Combining the robust history of Annapolis with modern meeting facilities, the collection of Historic Inns of Annapolis offers the ideal setting for business meetings, events, conferences, and other social gatherings. Situated in the city's historic district, the historic hotels feature a unique setting to ensure productivity and success.
The Governor Calvert House and The Maryland Inn feature more than 11,000 square feet of flexible meeting, conference, and event space in downtown Annapolis for groups of 10 to 400. With spectacular views of the State House, Main Street, and the glistening Annapolis waterfront, The Maryland Inn features 2,788 square feet of charming meeting and event space, including the grand Duke of Gloucester room, beautiful lobby and a lovely outdoor veranda overlooking the historic cityscape.
The Governor Calvert House features 8,800 square feet of elegant meeting, conference and banquet space, including beautiful colonial gardens, a terrace and patio for breakouts or leisurely relaxation. From gala receptions in the Governor's Hall at the Governor Calvert House to sky-lit festivities on the veranda at Maryland Inn, our historic inns are perfect settings for your meetings and events in Annapolis, Maryland.
Meeting services and amenities:
Over 11,500 sq ft of meeting space
Indoor and outdoor meeting venues
Audiovisual services and support
Catering
Event planning
High-speed Internet
Conference call capabilities

Capacity Chart
| | | | | | | | | |
| --- | --- | --- | --- | --- | --- | --- | --- | --- |
| Governor Calvert House | Sq. Ft. | Banquet | Recep | Conf | Theater | Class | Sq | U |
| Governor's Hall (A, B & C) | 2,413 | 200 | 400 | 80 | 250 | 150 | 70 | 60 |
| West Chamber | 882 | 60 | 100 | 40 | 60 | 40 | 30 | 30 |
| Calvert Chamber | 882 | 60 | 100 | 40 | 60 | 40 | 30 | 30 |
| East Chamber | 651 | 50 | 75 | 30 | 50 | 30 | 25 | 20 |
| Governors Garden Terrace | 1,100 | 60 | 80 | | | | | |
| Atrium | 1,800 | 150 | 200 | | | | | |
| Jonas Green | 520 | 50 | 60 | 25 | 50 | 40 | 30 | 25 |
| Jonas Green Patio-Outdoor | 338 | 50 | 60 | | | | | |
| Peggy Stewart | 273 | 12 | 10 | 8 | 10 | 8 | | |
| Rebecca Girard | 273 | 12 | 10 | 8 | 10 | 8 | | |
| Sarah Ball | 273 | 12 | 10 | 8 | 10 | 8 | | |
| Abram Claude | 540 | 40 | 50 | 22 | 40 | 20 | 20 | 20 |
| State Lobby | 1306 | | Flow | | | | | |
| | | | | | | | | |
| --- | --- | --- | --- | --- | --- | --- | --- | --- |
| Maryland Inn | Sq. Ft. | Banquet | Recep | Conf | Theater | Class | Sq | U |
| Maryland Inn Lobby 1&2 | 760 | 80 | 115 | | | | | |
| Maryland Inn Veranda-Outdoor | 320 | 16 | 30 | | | | | |
| Anne Arundel | 315 | 20 | 30 | 12 | 20 | 12 | | |
| Duke of Gloucester | 990 | 80 | 150 | 40 | 100 | 55 | 40 | 40 |
| Crown and Crab | 403 | 40 | 50 | 25 | 50 | 40 | 20 | 20 |