Hotel Adlon Kempinski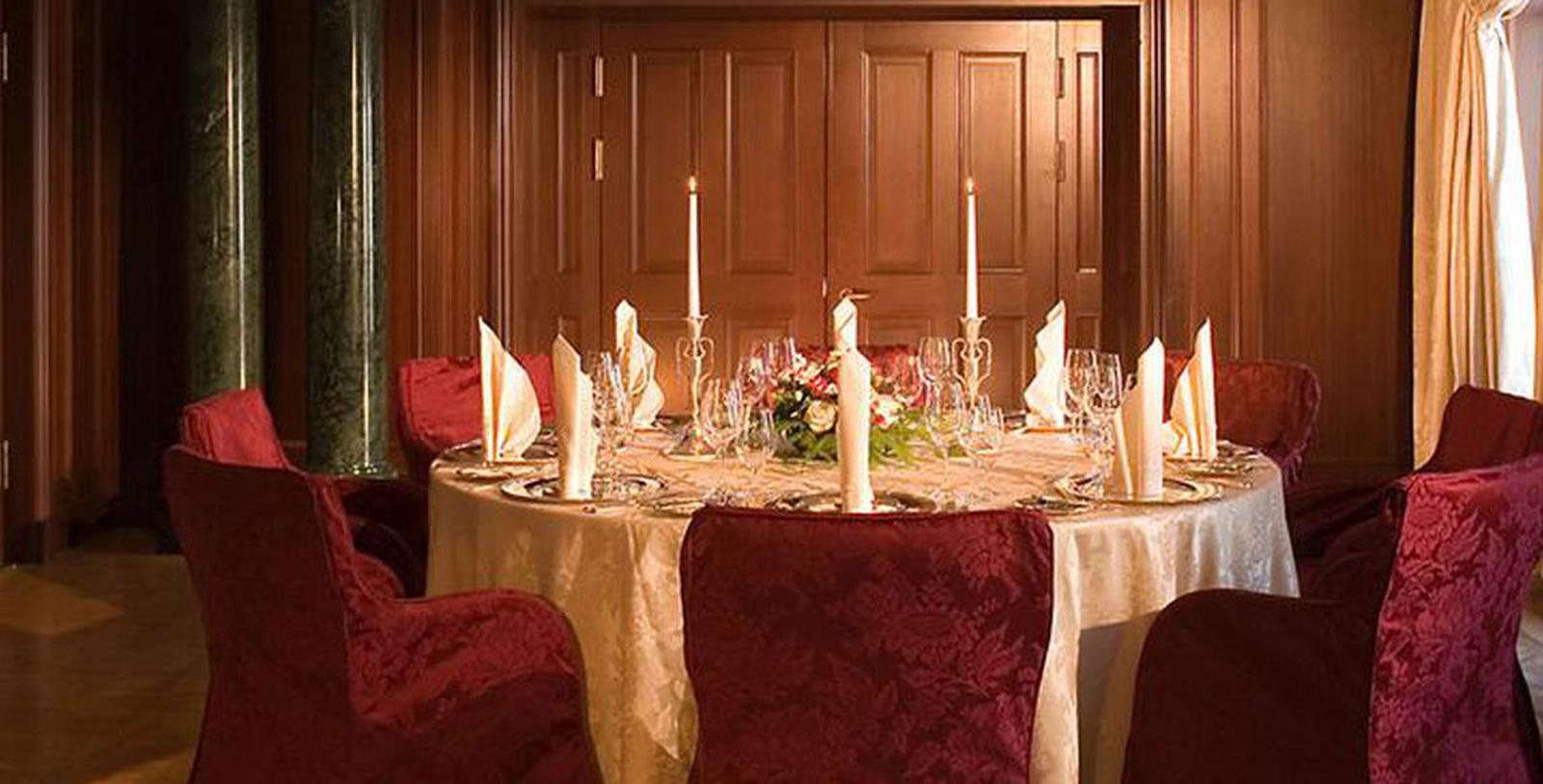 Meetings & Groups
The Hotel Adlon Kempinski is an ideal venue for all types of events, including family celebrations, weddings, receptions, festive dinners, meetings, presentations, and conferences. Following the founder's motto of 'Adlon oblige!', the hotel and its experienced events team will make an impressive event out of every occasion.
The 500 square meter ballroom, with its three impressive chandeliers, is situated on the ground floor at the heart of the hotel, and represents an ideal location for festive meetings in an exquisite atmosphere. All walls, including the movable partition walls which can separate the ballroom into three rooms, are furnished with noble plane tree wood and green marble. The ballroom is surrounded by two light and airy conservatories, which are in a style reminiscent of the legendary Hotel Adlon. The black and white check-patterned floor, combined with the natural day light and the flood of plants, conveys a bright and Mediterranean atmosphere.
As an independent function center affiliated with Hotel Adlon, the Palais is the perfect complement to the amenities offered by the hotel, thanks to the character of its different rooms and catering concepts. Congresses, conferences, and festive occasions for more than 500 persons can be held in the magnificent Palais ballroom, which has an area of 450 square meter. The ceilings are five meters high, creating a spacious, light atmosphere. The ballroom can be modified according to the occasion and is equally suitable for cocktail receptions, buffets, or formal banquets. It can alternatively be divided into two smaller units of 150 and 300 square meters, respectively. The Palais ballroom opens up into a large foyer, where a glass passage leads directly to the hotel. With an area of 200 square meters, the foyer is large enough to house supporting exhibitions, receptions, or can be used for coffee breaks. The high standards imposed by the Hotel Adlon ensure that the Palais' décor adhere to the look and feel of the Adlon itself. Carefully selected and exclusive materials, such as hand-knotted carpets, leather-covered doors, and fabric wall hangings, are just some of the lavish elements used for the interior design.
Special group rates are available on Monday and Tuesday during all months of the year. Check with the hotel for special accommodation rates for a party with a minimum of ten rooms and meeting packages that include room rental, complimentary Internet, coffee breaks, healthy lunch buffet, and unlimited soft drinks.